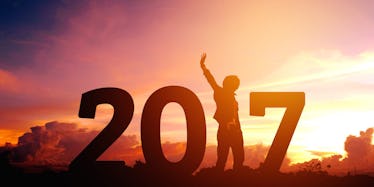 17 Reasons To Stop Looking Back And Actually Get Excited For 2017
Shutterstock
If you're reading this, it means you actually survived 2016 -- a year that seemed determined to kill everyone.
So, first of all, congrats! You did it! We are now a few days into 2017.
After the shit-show of a year we had in 2016, no one can blame you if you're feeling a little apprehensive about what the next 12 months have in store.
Let's face it, a lot of the terrible stuff that happened last year carries over into this year.
But there are still plenty of things to look forward to in 2017. Last year wasn't all bad, and, believe it or not, there's actually a lot to look forward to this year as well.
Stay positive, my friends!
Here are 17 things to look forward to in 2017.
1. $69 flights to Europe.
Yes, this is real life. In 2017, Norwegian Air is offering flights from New York to Europe (Scotland and Norway) for $69. You've probably had bar tabs that cost more, so there's really no excuse not to travel.
2. Hamilton tickets will finally be attainable!
Unless you're really rich, extremely lucky or just knew the right people, you've probably found it impossible to find tickets to "Hamilton." A national tour in 2017 will make this process a whole lot easier.
3. Dave Chappelle on Netflix.
Dave Chappelle is coming to Netflix in 2017 with three new comedy specials. BYAH!
4. Guardians of the Galaxy Vol. 2
Just watch the trailer and try to contain your excitement. Two words: Baby Groot.
5. Nintendo Switch.
Nintendo Switch is the legendary company's next big thing. It allows you to switch from playing video games on the big screen to a tablet in your hand. The future is here!
6. Drones that deliver food to increase your laziness.
Google is hoping to make drone deliveries of food and other fun items a reality in 2017 via Project Wing, which it's been developing for awhile. This is amazing -- just make sure Ron Swanson isn't anywhere nearby.
7. A solar eclipse.
There will be a total solar eclipse in summer 2017. The moon's shadow will cover parts of the US from Oregon to South Carolina.
Need I say more?
9. Star Wars: Episode VIII.
In spite of her untimely and deeply saddening death, Carrie Fisher is in this. Her career and life touched so many people beyond "Star Wars," but it will be great to see her on the big screen again in the role of Princess Leia.
10. "Stranger Things" Season 2.
It returns in late 2017, just in time for the holidays (and Christmas lights).
11. Guess who's back, back again? (Eminem!)
After ripping into Donald Trump in "Campaign Song," fans are expecting a new album from Eminem in 2017.
12. Pizza ATMs -- because why not?
24-hour pizza ATMs might soon be a thing on the streets of America. These machines cook the pizza for you on the spot. Life is beautiful.
13. NASA will make it to Saturn.
In April, NASA's Cassini spacecraft will get closer to the surface of Saturn than any craft ever has. Hooray for space exploration!
14. iPhone 8.
2017 marks the 10th anniversary of the iPhone and you know the newest version will be dope AF. Your selfies will be flawless.
15. Head transplant (yes, seriously).
Yes, this is real news.
This is weird, but also amazing. In 2015, Italian neuroscientist Dr. Sergio Canavero made headlines and turned heads (sorry, couldn't help it) when he announced he'd make the first human head transplant in 2017. A Russian man named Valery Spiridonov volunteered to be his patient for the procedure last year.
16. Wonder Woman.
This badass superhero is finally getting the epic movie she deserves.
17. DeLoreans!
Good news, "Back to the Future" fans! You can buy your very own brand new DeLorean in 2017 and live out your wildest Marty McFly dreams (time travel does not appear to be included, sadly).