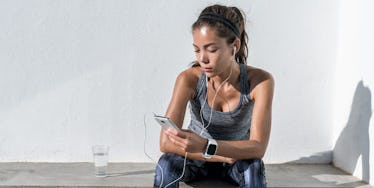 17 Apps That Make It So Much Easier To Stick To Your Resolutions In 2017
Shutterstock
I think it's pretty safe to say that, as a whole, not many people are going to miss 2016 (we're looking at you, Donald Trump).
Now comes, well, a little bit of pressure for the year ahead.
I don't necessarily buy into the "new year, new you" mantra because I believe you can change something whenever you please. What I do buy into is the idea of reinventing yourself into a better person.
Instead of spending the next year scrolling through Instagram on your phone, do yourself a favor and stick to whatever resolution you made by downloading one of these apps.
I promise, 2018 you will thank you for it.
1. If you want to eat healthier: Fooducate
This app is made for those of us who think something is healthy, without realizing that there's four sticks of butter disguised as a "natural flavor enhancer."
Scan an item's barcode at the grocery store to get the lowdown on its nutritional value.
While you're in the app, track your mood and hunger levels (so you can say goodbye to ever feeling hangry again).
2. If you don't know what to make for dinner: Nom
Pinterest can feel a bit like a black hole when deciding what you want to make for dinner.
With Nom, you can scroll through live videos that are updated daily from award-winning chefs and food bloggers.
You also have the option of reading tips from fellow foodies and can add your own food for thought (see what I did there?).
3. If you want to manage your spending: Digit
It may sound cliché, but every penny makes a difference when it comes to saving money.
Digit analyzes your income and spending patterns to help put aside small amounts of money into an account it manages on its own so you don't feel a financial blow.
It's basically like your little sister pocketing that five bucks you had lying on your dresser, but instead of the cash going to your sister, it's going into a little piggy bank that you can break open when you need to.
4. If you want to make shopping less stressful: Shopkick
Let's face it: You're not going to give up shopping entirely.
Instead of cutting off your retail therapy cold turkey, download Shopkick to earn points by making purchases or simply walking into a storefront.
Those points can be turned into gift cards at partnering stores, meaning you can finally feel at least a little bit proactive while curating your dream wardrobe.
5. If you want to conquer your fitness goals: Keelo
No more bitching about not having a gym membership.
This app is made for beginners and hardcore athletes alike, ensuring that whatever equipment you have on hand is more than enough to get in a good workout.
Whether you're at the gym or only have a pair of five-pound dumbbells handy at home, there's no excuse for not performing these high-intensity workouts. 
6. If you get bored working out: Sworkit
If you're the type of person who gets bored of a workout after only a few sessions, then download this app immediately.
Choose the kind of exercise you're looking for that day — cardio, yoga or strength training — and how long you feel like working out and it will show you the best moves for a maximum sweat sesh.
7. If you want to exercise outdoors: Yonder
Not a gym rat, but still want to feel the burn? There's an app for that!
Enter your location in Yonder and suggestions for outdoor activities will pop up all around you.
You even have the ability to check out reviews, ratings and tips from all your fellow adventurers.
8. If you want to learn something new: V for Wikipedia
If you don't troll Wikipedia at least once a day, then you're either a) lying or b) someone I don't want to be associated with.
But if you are like me and hop on Wikipedia for almost everything, then V for Wikipedia is your new best friend.
Check out this app's "Nearby" tab, which provides articles about interesting and knowledgable things that are all around you.
9. If you want to get creative: Daily Art
Whether you're a fan of Van Gogh or are more invested in an adult coloring book, it never hurts to let your right side of the brain get a little creative foreplay every now and then.
With this app, you can explore masterpieces every day and read the history behind them.
10. If you want to live your best life: H*nest Meditation
Much like its salty online video predecessor, the H*nest Meditation app is not messing around when it comes to relaxation.
If you prefer punching bags to downward-facing dogs, then you might want to give this app a shot. In short: good for those who hate meditation.
11. If you want a better, happier you: Happify
Having an app that keeps track of your emotional well-being sounds like a dream come true — and it is.
With Happify, you decide which "track" you need to be on to make yourself a better, happier you.
The track you select is designed by an expert and ensures a ton of daily activities, meditations and self-assessments so you can spend more time doing whatever it is you want to do.
12. If you need some quick rest: Power Nap App
While it might not seem logical to put an app about napping on your list of things to help you become a more productive person, the power of resting for 30 minutes (the maximum this app lets you nap for) can truly transform your day.
Open the app to find a pleasant sound to lull you to sleep and a soft alarm to wake you up.
You'll feel so rested that tomorrow morning's alarm won't even need a snooze button.
13. If you want to see the world: Tripit
This app is a personal travel agent for those who can't afford a personal travel agent. 
It pulls all of your travel information from your airline, confirmation emails, hotels, rental cars and any events that you've booked, blending it all together to create one beautiful, cohesive itinerary.
Now you can actually enjoy your trip without spending half of it scrolling through confirmation emails.
14. If you caught the travel bug: Cities Talking
If you've got a European vacation on the brain, then you should probably download this app.
Cities Talking has a massive list of downloadable walking tours all over Europe with maps that are as helpful as they are beautiful.
Oh, and did I mention the most glorious three words one can hear while traveling abroad? No WiFi needed.
15. If you need travel tips from a like-minded person: Cool Cousin
As it implies in its namesake, Cool Cousin is an app form of that awesome acquaintance in your life who does similar things you do, only somehow they do it in a cooler fashion.
With this app, you can access curated maps from locals — your "cousins" — whose lifestyles seems akin to yours, so you'll never run out of things to do.
You can also directly message a "cousin" for more streamlined suggestions if you're in a bind.
16. If you want to step up your safety game: Companion
How many times have you walked home from a bar at 2 am, staying on the phone with a friend until you arrived safely at your doorstep?
Enter a savvier way to keep track of you and your squad: an app that sends a live map of your walk home.
Choose who receives a text containing a link to a GPS-enabled map, with absolutely no download required from the receiver.
If you drop your phone or start running, the app will ask you if the police need to be called, and if you don't reply within 15 seconds, it will notify your friends and family that something may be up.
17. If you'd rather be safe than sorry: bSafe
The mother of all safety apps, it holds much of the capabilities that the Companion app, but with a few added bonuses.
One swipe of a button sounds an alarm — and can even record a video of an incident you're experiencing.
But the app's coolest feature is the "Fake Call" button, which allows you to set a time beforehand to receive a fake call, so you can make a quick exit if things are starting to go south on that blind date you agreed to.