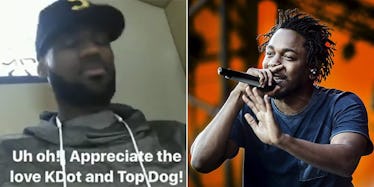 You Can Hear Kendrick Lamar's Album Early, Thanks To LeBron James
Instagram/REUTERS
You don't have to wait until Friday to get your first sample of that new Kendrick Lamar album.
Thanks to LeBron James, you can get a little taste of it a day early.
All you have to do is check out LeBron's Instagram story, where he's dropping snippets of "DAMN."
Here's a clip:
So LeBron got Kendrick Lamar's album early. Previewing damn on his IG story. pic.twitter.com/e3EpQldASe — Joseph Milord (@JoeMilord) April 13, 2017
In total, LeBron posted over a dozen of these short videos.
They only amount to about a minute or two of music, but if we have to guess based on what we can hear, it sounds like there's going to be a good mix of a melodic tunes and aggressive tracks where Kendrick is just coming at other rappers.
That's not exactly a surprise, though.
People are already expecting that the rapper is done playing nice, and ready to throw shots at competitors.
People who know the industry have been predicting "DAMN." will show off a different style.
Producer Syk Sense told XXL,
It's some of the hardest shit that I've heard. And the fact that it's connected to Kendrick as well just makes it that much better. And I haven't heard the songs, but I've heard the beats. Fuck, we've got some… some pretty heavy new guys that's really going to make a name for themselves off these beats … It's not like the jazzy sound you would think.
As for LeBron, he might as well be an industry head, too.
This is yet another example of the basketball star moonlighting as an A&R.
Just like he did with "DAMN.," LeBron has previewed other albums before they've been released. Just the other day, he was previewing new music from Meek Mill and Nipsey Hussle.
There's no doubt that this Kendrick preview is the one that deserves most attention. If "Humble" is any indication, people will be loving "DAMN."