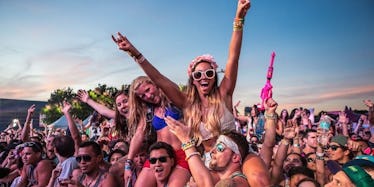 Sex, Drugs And...Drugs: How Music Festivals Have Evolved For The Worse
Amidst recent controversies, Van's Warped Tour founder Kevin Lyman has stated he is entertaining the idea of minimum age requirements for the festival.
Warped Tour is one of the oldest running music festivals of our time, since its inception in 1995.
Lyman says the concert series will likely be a kid-free zone starting next year. He's actually proposing that no one under the age of 21 be allowed to play or work the festival.
So, basically, if you like a performer who hasn't hit the legal drinking age yet, you won't be seeing him or her at Warped Tour any time soon.
The festival's founder might sound radical, but he's actually not totally crazy.
Warped Tour, which started as a way for people to discover new music and see their favorite artists live, has turned into something quite different.
In recent years, the festival gained some unwanted attention for excessive partying and illicit drug use. These kinds of things are happening at most — if not all — music festivals, so it probably comes as a shock to no one.
Maybe you heard about the string of people who died of overdoses of molly back in 2013 at NYC's Electric Zoo, or most recently, the 17 people who overdosed at the Chasing Summer Festival in Calgary, Canada.
Unfortunately, substance abuse like that is not a rarity at music festivals by any means. I think it's fair for me to argue that music festivals are more about drugs than rock and roll these days.
Teens and adults alike view concert series as a way to escape their sometimes boring lives and be wild for a weekend.
It's cool if a festival offers a strong lineup, but honestly, it doesn't really matter. Festivals have become about experimenting, acting reckless and maybe taking a video of it all for a Snapchat Story.
If people went to Warped Tour exclusively for the performances, the festival's executives wouldn't need to put age restrictions on it.
Let's recognize that Lyman isn't the enemy. He's just reacting to the way concert series are evolving.
It's 2015, and people like to party. Drinking and drugs will inevitably be present at major festivals, so the people in charge have to plan accordingly.
I wish this weren't the case, and I hope Warped Tour's adjustments won't cause other festivals to follow suit.
But if people continue this type of behavior at festivals, that won't be possible.
So, can you all take the careless and impulsive behavior down a notch?
Otherwise, you end up ruining it for the rest of us who really are there for the music.