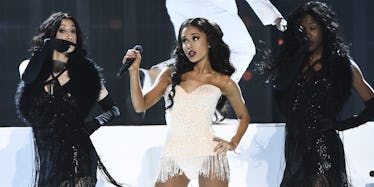 Your Ultimate Guide For Conquering The Billboard Hot 100 Festival
Rex/Shutterstock
This is your ultimate guide to thrivin' and survivin' this year's Billboard Hot 100 Fest.
Every year (since last year), the heavens above open up and bestow upon our world the glorious gift of Billboard's Hot 100 music festival.
Two days, a boatload of artists, food trucks, backpack sweat and getting a sunburn even though you put a bunch of sunscreen on.
What else could you possibly be doing this weekend that would be better than that?
Behold, the mighty festival lineup list.
Billboard, which is producing the festival along with Live Nation, also released a festival map so you can start prepping your epic journey through Jones Beach.
OK, I get it. It's VERY overwhelming. Festivals themselves are logistical messes, and this is one of the festival staples during the summer music season, so OF COURSE it's going to be hard to navigate.
Don't worry, though. I got your back. Here is a basic breakdown of everything important you need to know to make it through this bad boy alive.
Three Key Sets:
Ariana Grande
What are you going to do? NOT see Ariana Grande? Please. She's main-staging on August 20, and you're a fool if you don't think she's a main attraction on your festival "must-see" list.
Hayley Kiyoko
The 25-year-old up and coming LA native is having one bonkers summer. Her smash hit "Girls Like Girls" is smashing its way through music charts and absolutely demolishing the dang YouTube replay counter.
This is her first festival, which means you have a chance to pull one of those "I WAS THERE AT THE BEGINNING!" moves later on when she's massive and you hear cooooool kids at school talking about her.
Fetty Wap
It's Fetty Wap. I'm not going to explain why you should go see Fetty Wap. Just go see Fetty Wap.
THREE FOODS:
Guy's Burger Joint
Yes, the "Guy" in "Guy'S Burger Joint" is Guy Fieri. Yes, he is the sentient version of a deep fried donut fart. Yes, you will get Type 2 diabetes just walking by his restaurant.
But, like, I'm sure it tastes ridiculously amazing. Just eat it, you know you wanna.
Shake Shack
It's a New York staple. These burgers are like an edible version of the Statue of Liberty. The fries, hot dogs and shakes are also things of legends, so feel free to kind of just binge while you're there.
BurgerFi
Yeahhhhhhhh, Jones Beach is kind of burger-centric. Sorry about that, non-burger bros. You just gotta bite the meat bullet and settle on into one.
If Guy's place and Shake Shack don't seem your speed, I strongly suggest you consider taking a trip over to BurgerFi. Big THYUCK shakes and onion rings the size of a Jeep Grand Cherokee should fill you up RIGHT.
Have a good festival! Remember to stay hydrated, wear sunscreen and don't take a backpack!