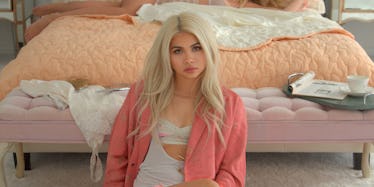 Hayley Kiyoko On Her Hit 'Girls Like Girls' And Queer Representation In Music
Asher Moss
Growing up, Hayley Kiyoko didn't see anybody quite like herself in the music world.
So instead of trying to be somebody she's not, she just started telling her own stories.
You might know the 25-year-old musician from her song "Girls Like Girls" off her EP This Side of Paradise.
The video, co-directed by Austin S. Winchell and Hayley herself, features two young girls who are clearly into each other and one straight guy who gets super abusive about it.
Spoiler: The dude ends up dead (or seriously injured, at least), and the girl gets the girl. It's incredibly sweet, for a murder.
The video blew up on Tumblr and now has nearly 45 million views. It's not every day young queer girls get to see themselves in a love story AND a revenge murder story, so it's not hard to see why it's so popular.
Recently, Hayley sat down for an interview with Elite Daily, and I asked her about that: Was there anyone she was able to see herself in, growing up?
She said not really, unfortunately. Hayley revealed,
I think the reason I'm just continuing to tell my story is because I didn't really have that growing up. I never really had someone that I could 100 percent relate to. It was difficult, to never have that.
Hayley is not shy about her sexuality. Her newest music video starring herself, "Gravel To Tempo," is based on all the crushes she had on girls in high school.
She said,
In high school, if you have a crush on someone and they don't like you back, you feel ugly. You don't feel capable of being loved. I really wanted to pay this homage to this time in my life.
The LGBT community on Tumblr has so far been just as thrilled with this music video as they were with "Girls Like Girls."
"They call me the queen of the gays," Hayley laughed. "I really didn't expect myself to become that."
But Hayley, who is half Japanese, assured me she is thrilled to be a role model for both queer and Asian fans.
She said,
There's not a lot of Asian pop stars... I'm happy to brave and put my story out there, if I know that it will help younger generations. I hope that my music can help the younger generation gain confidence earlier on, so that they can enjoy their lives more.
This weekend, Hayley is taking her music career to the next level and performing at the Billboard Hot 100 Fest  — her very first music festival.
As a longtime festival-goer herself, Hayley said she is extremely excited to finally be on the performing end. She said,
I'm honored to be a part of it... I was like OG Coachella. Now it's normal for 13-year-olds to go to Coachella, but I went when I was 13 and it was still only one day. Coldplay was headlining.
She said it was an amazing experience that left a lasting impression on her, revealing,
I went eight years in a row, and then I stopped going. Now I think the next time I go, I have to be performing.
When I told her I thought she wasn't far off from that goal, she laughed and said,
Thank you for the positive vibes.
Hayley Kiyoko performs at Billboard Hot 100 Fest this Saturday, August 20, at 5:45 pm. Tickets for the festival are available for purchase here.