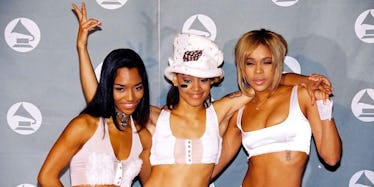 TLC Just Dropped A New Song And It Feels Like It's 1999 All Over Again
REX/Shutterstock
TLC is back, y'all — like way back.
Literally: TLC just dropped a new single titled "Way Back," on Friday, April 14.
Fans of the old-school TLC will not be disappointed, since this song has all the chill vibes of the '90s with a bit of a modern touch.
And Snoop Dogg is in it.
The song is the first single from the '90s R&B group's upcoming album, which was announced last month.
The album is set for a June 30 release, and it will be the group's first since the 2002 record, 3D.
Before the album was completed, one of the group's three members,  Lisa "Left Eye" Lopes, died in a car crash.
Tionne "T-Boz" Watkins and Rozonda "Chilli" Thomas decided to complete the album, but then retired, rather than carry on as a group without Lopes.
But now, thanks to a Kickstarter campaign launched in September 2015, T and C are coming back with a fifth and final album.
There's no name for the album yet, and according to the most recent Kickstarter update, the ladies are taking suggestions from fans.
But wait — there's more!
Not only are we getting a brand-new TLC album, but the group is also going on full-on comeback with an actual, real, live tour.
This summer, Tionne and Chilli are headlining the I Love The '90s Tour, joining fellow beloved '90s artists Mark McGrath, Naughty by Nature, Blackstreet, Biz Markie, Montell Jordan, All-4-One, Snap! and C+C Music Factory.
Check out the tour dates and buy your tickets for the I Love The '90s tour here.
Unfortunately for TLC, the day they dropped their first single in over a decade also happens to be the same day Kendrick Lamar dropped his new album.
Hopefully hip-hop fans will have room for a little blast from the past as well as the future.