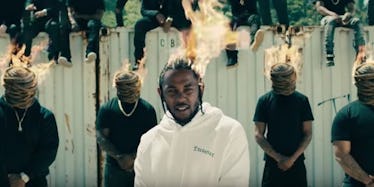 Kendrick Lamar Dropped His Album, But Fans Think There's Another One Coming
YouTube
DAMN, GUYS.
Kendrick Lamar's new record is straight fire, and fans already can't get enough of the powerful new songs that became available at midnight on Friday, April 14.
The rapper's highly-anticipated album, DAMN., is his fourth studio album that follows his recent releases To Pimp a Butterfly (2015) and Untitled Unmastered (2016).
FYI, it's fucking incredible.
His new album might be different than his previous releases, though, because fans think there's a second album coming later this weekend.
That's right: A few factors on and off Kendrick's record suggest he might be releasing another album on Sunday, and fans are losing their shit.
Kendrick, what's up your sleeve, man?
Let's take a look into this fan theory and see what all the commotion's about.
Like I said, there are a few signs fans have caught onto that might hint a second album release on Sunday.
But first, keep in mind that Sunday is Easter, and that Kendrick released his album on Good Friday. The rapper is also known for being a devout Christian.
Carrying on.
After listening to the album, fans have determined Kendrick dies in the first song on the track list, called "BLOOD." However, they think he will release a second album on Easter, the same day Christians believe Jesus rose from the dead.
Fans have also analyzed various song lyrics on the album that also suggest a second album might be on the horizon (take a listen to find out what they're talking about).
They're also taking his single, "The Heart Part 4," into consideration, and believe it's also a sign of more music to come after Kendrick's virtual "death" in DAMN.
In fact, during "The Heart Part 4," Kendrick raps "my next album, the whole industry on a ice pack… with TOC, you see the flames," and fans think "TOC" means "the other color."
This is super relevant because Kendrick's producer, Soundwave, tweeted on Thursday suggesting his record might not be the "official version," followed by another tweet of Morpheus from "The Matrix."
FYI, Morpheus offered Neo two pills in the movie: One was red, and one was blue.
Plus, Kendrick's album artwork shows him standing in front of a red brick wall, and fans think his second album will show him in front of a blue brick wall.
Mind = blown.
Since fans began theorizing more Kendrick music might be coming on Easter Sunday, they've taken their excitement to Twitter.
They're literally losing their shit.
So, what do you think?
I suppose we'll have to wait until Sunday to find out if new Kendrick music is coming our way.
Citations: http://www.factmag.com/2017/04/14/kendrick-lamar-damn-theories/ (Fact Mag), Stream Kendrick Lamar's New Album, 'DAMN.' (NPR)