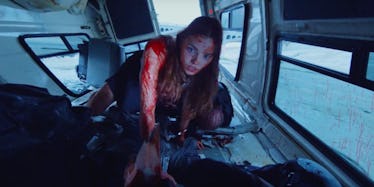 The Weeknd's Graphic 'False Alarm' Music Video Is Insanely Violent
Youtube
Uh, I'm sorry, was I watching a music video or the latest "Grand Theft Auto" trailer?
Because that was... that was pretty violent.
The Weeknd has just released his music video for "False Alarm" on Vevo on Thursday, and it certainly is a bit graphic.
I'm not a prude when it comes to violence either -- I watch a lot of terrible things, and I play a lot of terrible video games.
But this is probably the most violent music video my sweet little doe eyes have ever landed upon.
I would even go as far to say that it is oddly similar to the intro of "Grand Theft Auto V."
We follow the singer and his band of bandits through a bank heist where they turn on each other.
The video, which is six minutes, starts with a parental advisory warning for explicit content and graphic violence.
Truly, my delicate lady sensibilities almost couldn't stand it.
Ilya Naishuller, of "Hardcore Henry," directed and shot the video in first person point of view.
A young woman is taken hostage in the video, and it follows a high-speed chase between robbers and the police.
It ends with the final robber with a shard of glass through his stomach, and the kidnapped woman walking off with their stolen money.
The robber, who we have been in the first person POV of for the entirety of the music video, reveals himself to be The Weeknd. He then takes his own life.
"False Alarm" is a lot like The Weeknd's "Starboy" video, in which he is a robber who sheds his innocent past by killing his old self.
The artist first premiered his latest song on "SNL" this weekend, when he appeared with host Margot Robbie.
The Weeknd's newest album "Starboy" is set to be released on November 25.
Citations: The Weeknd Releases Graphic New 'False Alarm' Music Video (ET Online)