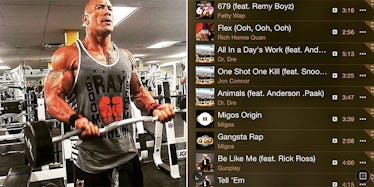 The Rock's Music Playlist For His Intense Workouts Is Straight-Up Fire
Instagram
To work out like The Rock, you need to watch a compilation of his motivational videos and be ready to destroy leg day every day.
But even before all that, you need to have a fire playlist with tracks carefully curated to make you truly go off and black out at the gym.
The Rock released his official workout playlist, and the sh*t is lit.
Dwayne Johnson himself said,
Just destroyed our Sunday training session with this playlist I put together this am. Passing it along to ya. That 'All In a Days Work' is def something to f*ck with. #OriginOfTheFlow #LifeLongGrind #ClanginAndBangin #EatFirst
The playlist starts with Fetty Wap, and you already know there's some Migos on there, too.
It will take you from the gym straight to the turn-up in no time -- just don't skip leg day or The Rock will come looking for you.