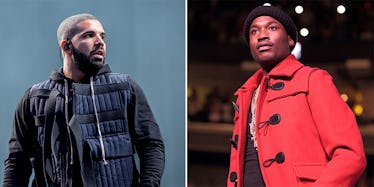 Meek Mill Layed Down A Weak Drake Diss In A New Freestyle
REX/Shutterstock
I don't know how many times Drake's gonna wipe the floor with this guy, but knowing me and my love for Drake, I'll keep counting for him.
We all know what happened in July of 2015. But for those of you who don't, I'll be nice and summarize it.
Drake didn't tweet Meek Mill's new album "Dreams Worth More Than Money," which he was featured on, and Meek kind of went full-on psycho.
He started saying Drake doesn't write his own music and, with the help of Funkmaster Flex, began releasing reference tracks from the song he featured Drake on as well as Drake's mixtape "If You're Reading This It's Too Late."
Drake kept his cool. Until he didn't.
He released a diss track aimed towards Meek Mill called "Charged Up" and before Meek could do shit about the other one, Drake came out with the second diss "Back to Back," which was practically the savage anthem of the summer.
So it's not really that surprising that when Meek and Funkmaster Flex got together this morning in New York City for Hot 97, Meek's freestyle was dissing everyone... including Drake.
Meek Mill rapped,
Postin up' with Nicki, that's when it get tricky / n***** in they feelins, that's when it get Drizzy.
#WEAKMILL
At this point, I feel like Drake doesn't even have to do anything with this beef and Meek is still losing. All Meek does is reuse the same lame ass lines, but the only person he's hurting is himself.
Meek already tried to get back at Drake last year with "Wanna Know," but what I wanna know is why he can't just let it go?
The only thing that freestyle made me want to do is go and buy tickets for Drake's two shows in Brooklyn next month.
...Even though I already saw him twice in Madison Square Garden last August.
¯\_(ツ)_/¯
You can watch Meek's full freestyle below, but I don't really suggest it. You don't need that kind of negativity in your life.
Citations: Meek Mill Freestyles on Flex | Freestyle #017 (YouTube)