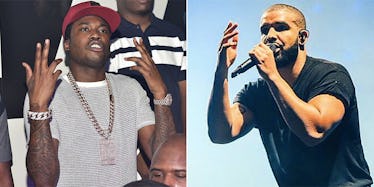 Meek Mill Buries Himself With 'Wanna Know' Drake Diss
Instagram
Meek Mill truly lived up to his name this week.
After Drake responded to Meek's accusation that he employed ghostwriters with not one, but two diss records, the Philly rhymer was slow to react, much to the disappointment of hip-hop fans following the building beef.
Last night on Hot 97, Meek finally dropped a comeback record in the form of "Wanna Know," and the general reaction has ranged from "Eh" to "HAHAHAHAHAHA!!!"
Meek's lackluster attempt to strike back came as a shock for more than a few reasons, one being that the "Lord Knows" spitter is an experienced battle rapper.
One thing I've always loved about Meek is the fact his fans can go to his YouTube page, and see his growth from the streets of Philly to stardom. Real fans know he built up a lot of his credibility as a rapper by battling on the block.
He comes from a long line of superstar rappers who started by spitting face-to-face, including Biggie, Jay Z and Eminem.
All three of these greats have crafted some nasty diss records over the years, partially thanks to their verbal combat experience.
Like them, Meek should know how to put words together in a way to dismantle his opponent, but instead, he took more ghostwriting shots, something he already told us about a week ago.
He also didn't take the time to make the track particularly lyrical; he just spat basic lines about Drake being "soft" and a fraud. Again, it's old news.
Since his major point is that Drake can't actually rap, he would've done better by at least attempting to prove he's the better MC.
That alone wouldn't have saved the record, but it at least would have given us something to digest.
Meek's inclusion of Quentin Miller singing Drake's reference line from "Know Yourself" would've been more effective if it included bars from his actual verses, as collaborating on hooks and choruses has always been fair game.
Also, Drake has crossed over from hip-hop to pop star, and while hip-hop heads have an issue with ghostwriting, the general public couldn't give a f*ck.
He makes good music, and that's all that ultimately matters.
The fact that Meek waited so long to respond also hurt him. After starting beef, you can't just disappear for a week.
He basically gave Drake time to process the situation and craft bars even more potent than if Drizzy had felt rushed to respond.
In fact, "Back to Back" was so well-calculated, it managed to alter public opinion of Meek and Nicki Minaj's relationship.
The track also included artwork from the 1993 World Series, in which Toronto beat Philly to win "Back to Back" titles. (Not to mention, it dropped the same day Toronto beat Philly again, coincidentally by 6.)
Meek's slow reaction gave Drake the opportunity to not only address the rumors at hand, but to destroy him, which, in turn, instantly swayed public opinion.
Who's going to ride for the guy too scared or "busy" to hit a studio and defend his position?
Whatever record he dropped — even if it had been better than "Wanna Know" — it would have been an uphill battle with listeners. He essentially dug his own grave by taking his time.
Meek is the personification of the "Chappelle's Show" sketch, "When Keeping It Real Goes Wrong."
His attempt to expose Drake (just for the petty reason of him not tweeting Meek's album link) has lost him major credibility.
Drake essentially proved he's a better rapper and a more strategic artist. And when pushed, we discovered Drake isn't afraid to go head-to-head.
And all of this was confirmed thanks to Meek's attempt to keep it real via Twitter.
Meek had a number one album, the hottest chick in the game and his first real radio smash, and now all we're thinking about is this whack-ass diss and the hilarious memes that came with it.
I'm still a Meek fan, and I'll continue to listen to Dreams Worth More Than Money.
I just hope that whomever Meek beefs with next, he actually gives him a run for his money.
Because this wasn't just a loss. It was a body bag.