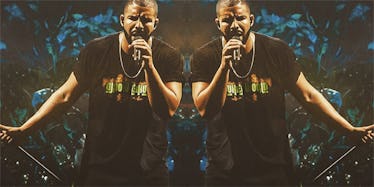 Why Using A Ghostwriter Is Such A Big Deal In Hip-Hop Music
Instagram
There's a lot of confusion among casual rap listeners as to why Meek Mill decided to call out Drake for using a ghostwriter.
Why does it matter when other genres use multiple and/or different artists to write songs all the time?
The truth is, not all is fair when it comes to the pen and pad, and hip-hop holds its artists to a higher standard than other genres of music.
If you consider yourself a "lyricist" as Drake does, having a ghostwriter is the ultimate offense.
Of course, there's no verification this is even true, but the controversy does speak to hip-hop's cultural values.
This genre highly regards lyrical authenticity, a problem many other categories do not have to face.
Songwriting for R&B, pop or pretty much any genre that isn't hip-hop is a little different.
Performing songs written by other people isn't really considered "ghostwriting."
In those cases, as the "ghost" prefix indicates, someone wants the original writer to go unknown, uncredited or, at the very least, kept under wraps.
With most singers, it's simply considered songwriting. There's no shame in knowing Jermaine Dupri wrote songs for Usher and Mariah Carey, or that Ne-Yo has penned hits for Beyoncé and Rihanna.
Chris Brown could care less if you knew Ty Dolla Sign wrote "Loyal."
Why? Because traditionally, whoever was the better songwriter at a label would handle that task, just as Smokey Robinson did for Motown.
He wasn't "ghostwriting" for The Temptations; he simply had a gift for language that fit the legendary group's sound. After all, a singer's main claim to fame is singing.
Can she stay on key? Does he have a decent vocal range?  Will the group emote what's needed for the listener to feel their pain, joy or whatever?
These are the standards we hold singers to, and if they also happen to be great songwriters, even better.
That's not exactly how hip-hop works.
Just as singers are judged for singing, rappers are judged by their ability to rap, which is a lot more than just rhyming a few words.
Can they use sophisticated word play? Creative similes? Profound metaphors?
Do they have attention-grabbing delivery? Are they able to switch flows as needed? Can they handle a wide range of subject matter?
Rappers who consider themselves lyricists would answer "yes" to all of these, and it would be a complete violation for you to spit someone else's lines.
Rap's reverence for authenticity, or, at the very least, perceived authenticity (What's up, Rozay?), doesn't allow for an artist to pay another to tell his or her story.
Like I said before, this mainly applies to rappers who are highly respected for their lyrical prowess.
Something tells me if a story broke about Soulja Boy not writing his own sh*t, no one would bat an eye.
It's the reason no one cares if Jay Z wrote for Dr. Dre, or if Nas wrote for Diddy. Dre and Diddy are not lyricists. Diddy proudly proclaimed, "Don't worry if I write rhymes, I write checks!"
He's not even in denial about it. But what about someone like Drake? J Cole? Big Sean?
It's unacceptable because such a large part of an artists' appeal is their ability to rap at a certain caliber.
Sure, coming up with a catchy hook may require some assistance, but the meat of a rap song, those prose-rich verses, need to come from the rapper's own brain and the rapper's own pen.
It's the reason Nicki Minaj so proudly states she writes her own raps (especially because female rappers have always been accused of having men ghostwrite their rhymes), or why it was such a big deal when rumor spread that Jay Electronica and Stic.man of Dead Prez wrote for Nas.
This is a problem pop and R&B stars don't have, but it is a huge deal in the rap world.
Compton's Kendrick Lamar even shames rappers who use ghostwriters on "King Kunta":
"I can dig rapping, but a rapper with a ghostwriter? What the f*ck happened? (Oh no) I swore I wouldn't tell But most of you share bars like you got the bottom bunk in a two-man cell"
Lamar is simply sharing the general distaste hip-hop has for rappers who don't write their own material, which is why Meek going off on Drake is such a big deal for rap fans.
Meek has since apologized, and we don't know whether or not it was a true statement. Either way, he knew accusations of ghostwriting would strike a nerve.
Within hip-hop, it may just be the one line a true lyricist can't cross.