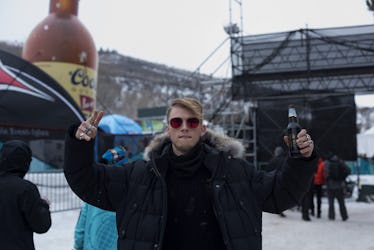 How Machine Gun Kelly Became The Voice For Disenfranchised Millennials
While it's no longer uncommon to spot Machine Gun Kelly in the company of other famous Millennials, he hasn't forgotten about the people often overlooked by Hollywood's elite.
He doesn't neglect writing for the downtrodden.
While Machine Gun Kelly does rap about common themes such as lust and partying, his second studio album, General Admission's track list contains a little more social consciousness than the average rapper's.
The album sheds light upon issues like impoverishment, familial strife, drug addiction and suicide.
Machine Gun Kelly is a voice for the demoralized, and an inspiration for people in the shadows of society: the underprivileged, the drug addicted and the bullied.
He raps to inspire them to overcome their demons and their circumstances to pursue success.
1. An Inspiration For The Underprivileged
Throughout General Admission, Machine Gun Kelly describes the underprivileged socioeconomic environment of Cleveland, the city that gave birth to his success. Semi-automatic weapons, pit bulls and drugs are the norm. His friends and associates have been incarcerated.
In the song, "Everyday," Machine Gun Kelly raps for people with underprivileged circumstances who are trying to find a way in this world.
"This one is for the boy who grew up trying to feed his family every day/ This one is for the girl who's feeling lost because she's trying to find a way" and "this verse is for my people on the grind/ Going to sleep at 2/ Clocking in at 9/ Trying to go to school."
He doesn't only encourage them to keep "reaching for the stars." He suggests they go all in — "jump!"— to make a better life for themselves.
In "A Little More," MGK encourages people further.
"You can give up like they tell you/ Stop like they tell you/ Be scared to dream for the top like they tell you/ But I'm trying to tell you, f*ck what they tell you."
It's up to each person to make it happen for his or herself.
2. A Relatable Figure For Those With Family Strife
MGK forges identification with people who have strained family lives. He discusses lack of paternal support in "Alpha Omega." He discusses maternal estrangement in "Story of the Stairs." He lets people know they're not alone just because their parents aren't in their lives.
He also shares his own struggles with parenthood in "Gone," such as balancing "dad life" with the "fast life" that comes with his career.
"Scared to see my daughter now because I'm lost in the life/ In the bathroom getting high when she called twice/ Sorry, but I'm scared at looking at something so precious when I'm a mess."
He divulges his fear of letting his daughter and her mother down. He reveals this vulnerable part of himself, which, in turn, makes his audience feel more comfortable with their own vulnerabilities.
3. Motivation For Those With Addiction
People with addiction are among the most vulnerable in our society.
Machine Gun Kelly doesn't shy away from this reality. While other artists rap about recreational drug use, usually only glamorizing it, MGK describes a full cycle of the vicious disease of drug addiction in "Merry Go Round."
The female subject of the song is introduced to the needle as an escape. Soon thereafter, she can't escape the needle.
"Trading pussy for product, she did anything for that feeling." In the grip of serious drug addiction, "that syringe is all that keeps her alive anymore." Ironically, it's the very thing that takes her life as well as the life of her unborn child.
Machine Gun Kelly's open discussion of the cycle — the merry go round — of drug addiction brings the taboo issue out of the shadows.
It serves as a warning. MGK doesn't want his audience to suffer the same fate as this woman. He provides motivation for addicts to break the cycle — to hop off of the merry go round — while they still can.
4. A Protector Of The Emotionally Tormented
Machine Gun Kelly reaches out to people who experience emotional turmoil.
In "A Little More," he discusses the height of such pain. "I spent the weekend catching up on the news/ A girl committed suicide after she was bullied at school."
He tells people "it's OK to let the pain show," meanwhile encouraging the perpetrators of bullying — and the world in general — to show a little more love. MGK uses his voice to lift up people of all creeds, colors and circumstances.
MGK's second studio album is flush with inspiration for the people most overlooked in our society. Yes, it also has plenty of songs that'll get you hyped.
It's an album for everyone, hence its title, General Admission. Cheers to you, Machine Gun Kelly. Thanks for looking outside of yourself.