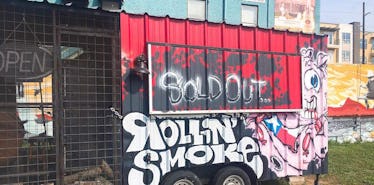 Levitation Day 1 Recap: Dangerously Good Weather And A Total Sh*t Show
Kate Ryan
To catch y'all up who are just tuning in, Levitation, aka Austin Psych Fest, was canceled Thursday evening, a mere 20 hours before the festival was scheduled to begin, due to "dangerous weather conditions."
As it turns out, the clouds blew over and the sun came out to shine on a complete sh*t show that was day one of the festival. Here's a timeline of exactly what went down.
12:30 pm -- I touch down in Austin with no expectations.
I landed in Austin, Texas not knowing what to expect, thinking it'd be pouring and I might use my passes to get first dibs on rescheduled shows relocated throughout the city. As I got off the plane, it was drizzling, but that soon slowed to a dewy and not altogether unpleasant mist.
What I also didn't expect was a complete free-for-all, a mad dash for tickets that inevitably sold out within minutes on an ill-equipped website that kept crashing. My passes were rendered meaningless as Levitation removed itself from the situation and placed the responsibility on the artists and venues to scramble to put alternative shows together.
Still, I remained optimistic, sure I'd see some live music one way or another.
2:00 pm -- A Twitter apocalypse forms outside a dive-y barn bar.
Tickets for The Brian Jonestown Massacre and Slowdive were on the top of my priority list as I'd bought tickets to Levitation primarily to see them in the first place.
So, I went straight to Historic Scoot Inn, a dive-y, refurbished barn where BJM and Slowdive were expected to play, and I found a strange mix of old school rock 'n' roll and 21st-century tech.
Everyone -- I mean everyone -- was looking down at his or her phone. The goal shifted from blissing out to psychedelic music to trolling Twitter for concert tips.
I had to weed through the slew of misinformation being tossed around the Internet, because, again, Levitation organizers were useless. It was as though they set off a bomb and then drifted quietly into the night.
Meanwhile, everyone was jerked around by Texas ticketing site Transmission Events. While waiting in a line that wrapped around the building, with the heat frying my brain, the panic built up I might not get tickets.
I turned to look at one guy behind me who was staring down at his phone, dejected, and heard him say, "This is so stressful."
5:00 pm -- Transmission officially f*cks everyone over.
"Bad news," the manager said, poking his head out, using the back door to shield himself.
Three hours later -- yes, three hours later -- I learned Transmission oversold the ticket limit on its website, therefore the 50 or so people waiting in line right outside were sh*t out of luck.
Meanwhile, scalpers who bought tickets online were reselling them for $75 a piece when they were originally going for $5.
5:15 pm -- I can't even get some goddamn barbecue.
Wandering away from the venue, hungry and dazed, I sought out a highly recommended barbecue spot only to find this.
Really, BBQ?! Really?!
8:00 pm -- Rumors circulate the festival wasn't canceled due to weather issues at all.
At this point, I'd never felt more like a headless chicken. Having made my way back to Scoot Inn to check out the situation, I sat with dozens of other fans on the lawn outside trying to salvage the situation. Stuffed with quesadilla and guacamole, I sat down on the grass and promptly dozed off.
With a perfect breeze cooling me off, it seemed the threat of bad weather had disappeared along with the thunderclouds. While Levitation attributed the final decision to cancel to Travis County, others were saying it could have had more to do with the fact the festival didn't sell out.
Just the day before it was canceled, Levitation was drumming up the festival instead of warning people it might not go down.
The ranch is looking real good. We can't wait to see you! #Levitation2016 : Briana Purser pic.twitter.com/D0b6grI080 — LEVITATION (@LEVITATION) April 27, 2016
Only 2 days to #Levitation2016! Tickets, camping passes, schedule and info: https://t.co/xJJ5JBirsR pic.twitter.com/xrwEWknTm8 — LEVITATION (@LEVITATION) April 27, 2016
This kind of promotion made fans suspicious the cancellation had more to do with recouping costs via insurance and using the weather as a scapegoat.
10:30 pm -- I hear dope live music at last.
At the Hole in the Wall, I found salvation. Cellar Doors was scheduled to play and with a lineup of great local bands before it, live music was within my reach.
I ran into Danny Lee Blackwell from Night Beats and chatted about the mess of a day.
But ultimately, Bob Dylan said it best...
3:00 am -- Chilling among good friends, I think the situation could definitely be worse.
At the end of the day, the festival might have gone to complete sh*t, but it doesn't mean my time in Austin has to. So many fans traveled from as far as Europe and Australia, having planned their trips for months, only to be greatly disappointed. Levitation employees who had nothing to do with the cancellation are now dealing with frustrated fans.
It could always be worse, and in my opinion, nobody was injured, the weather did no major damage and the bands are still rallying to show the fans a good time. Going into Day 2 of the non-festival festival, I'm excited to go with the flow, see what happens and, of course, enjoy some live music in the city known for doing it best.