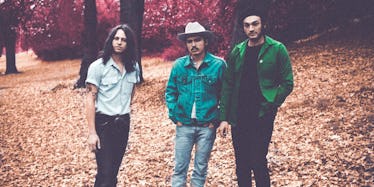 Night Beats' Danny Lee Blackwell Proves Rock N' Roll Is Still Very Much Alive
Kristin Cofer
There was a nasty rumor going around toward the end of the '70s that if rock n' roll wasn't already dead, it was definitely dying.
Fast forward to 2016 and fortunately it seems that is far from true. Between rock n' roll legends like Iggy Pop and Elton John churning out new albums and younger rockstars like Queens of the Stone Age and the Dead Weather transforming this decade, there is no shortage of excellent music to be found.
Night Beats are one of those bands that transcends a singular genre for a more nuanced, inclusive sound. By mixing psychedelic, R&B and rock n' roll, they draw from the classics to create something new.
A Texan band currently based in Seattle, the group consists of Danny Lee Blackwell, James Traeger and Jakob Bowden. Elite Daily the chance to speak with Danny about the current state of rock n' roll, Paul Thomas Anderson and the nebulous character of creativity. 
Among Danny's influences, he looks to James Brown, Little Richard, Salvador Dalí and Paul Thomas Anderson for inspiration in his work. As a PTA fan myself, I had to ask which of his films he likes the most. His answer: "The Master." Now here's a man after my own heart.
After starting to write music at a young age, Danny says he made it up as he went along. Not coming from a family with a rich background in music gave him the freedom to navigate a style on his own. Moving from Texas to Seattle in his youth also contributed to the evolution of his music.
He says of the disparate cultures,
They're very different... I had been playing in Dallas and Texarkana, Denton and Fort Worth and all those different places around Texas. That was my circuit at my age. It was bars, you know, random bars. Anyone who wanted to book a no-name band who didn't know about the underground. I knew about it, but I wasn't cordially invited into it. I was fifteen. When I moved to Seattle, I was exposed to a lot more people literally doing it themselves.
As far as the process of writing new songs, Danny says he likes to leave a lot open to interpretation. As he elaborated,
I don't have a formula. I don't exactly believe in a formula... I might have a concise message of something, but at the same time, I leave a lot of open room for interpretation.
In his spare time, he enjoys writing poetry, though he will only weave poetic lines into a song if it aligns well with the sound. Like any great artist, Danny draws inspiration from everyday life, saying,
I might be inspired by something on the news or something I hear at a party or the way I feel when I wake up in the morning.
And when I asked him whether he ever implements drugs to spur his creativity in the traditional fashion of psychedelic musicians, he had this to say,
Some people are geniuses on drugs and some people aren't. I don't set a standard for what I intake or what I create, which is good I think.
And in that way, Danny Lee Blackwell is truly a modern rockstar. Drawing from classic sounds while adjusting his creative process as he sees fit, Danny and Night Beats will continue to carry the rock n' roll torch into the 21st century.
Check them out this Thursday as they open up Austin Psych Fest and celebrate their new album, Who Sold My Generation, with a performance at Empire Garage in downtown Austin. They'll also be playing at the Ace Hotel in Los Angeles this Sunday, so all the Angelenos reading this better be sure not to miss out.
You can also check them out on Instagram where they post updates about upcoming shows on the reg.