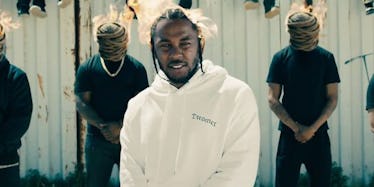 People Think Kendrick Lamar's New Music Video Is A Diss To Drake And Big Sean
YouTube
Rap fans have been blessed with a ton of fiery diss tracks in the last few years.
There was Drake eviscerating Meek Mill in "Back to Back," and more recently Remy Ma and Nicki Minaj exchanging brutal words in tracks like "Shether" and "No Frauds."
Now it sounds like Kendrick Lamar is entering the ring as well, and he's looking to destroy Big Sean and Drake.
Kendrick just dropped his latest single, "Humble," along with a visually stunning music video, but the real story is that everyone is pretty sure the whole song is one huge diss to Big Sean.
Fans are pointing out Lamar is completely mocking Sean's flow in the chorus of the song, and taking his frequent phrase "lil' bitch."
And "Humble" also comes just days after Kendrick released "The Heart Part 4," which everyone's pretty sure is also a diss track directed at Big Sean.
In the songs, Kendrick seems to be clearly calling out Sean. Though he doesn't say his name, his repeated mentions of "hol' up" and"lil' bitch" seem to be a direct reference to Sean, and he even refers to his opponent as "Big Pun" (Sean loves himself a pun).
The two rappers have been beefing for a few years now. Back in 2013, Kendrick used his featured verse on Big Sean's song "Control" to drag pretty much every major rapper in the game, including Big Sean himself! Since then, they've been subtly dissing each other every now and then on various tracks and freestyles.
Though their beef had been pretty low-key since "Control," Big Sean seemed to revive it pretty clearly when he released his song "No More Interviews" a few months ago, which many are assuming "The Heart Part 4" and "Humble" are responses to.
In his track, Big Sean expresses his distaste for rappers who rap fast and "sound like one big asthma attack," which seems to be referring to Kendrick's unconventional flow.
Kendrick pretty clearly hits back at Sean's flow by adopting his catchphrase-driven style on "Humble."
Big Sean isn't the only rapper people think Kendrick was targeting on his new track. Fans are also speculating "Humble" is a Drake diss, since Kendrick opted for a more chorus-driven performance and put out an overtly opulent music video, aspects that have become Drake's signatures in the hip-hop community.
Obviously, the track seems much more aimed at Big Sean than Drake. Mostly, I think people are just looking to insert Drake into any perceived rap beef that's going on.
Citations: People Think Kendrick Lamar Is Dissing Big Sean Again on "Humble" (Complex)