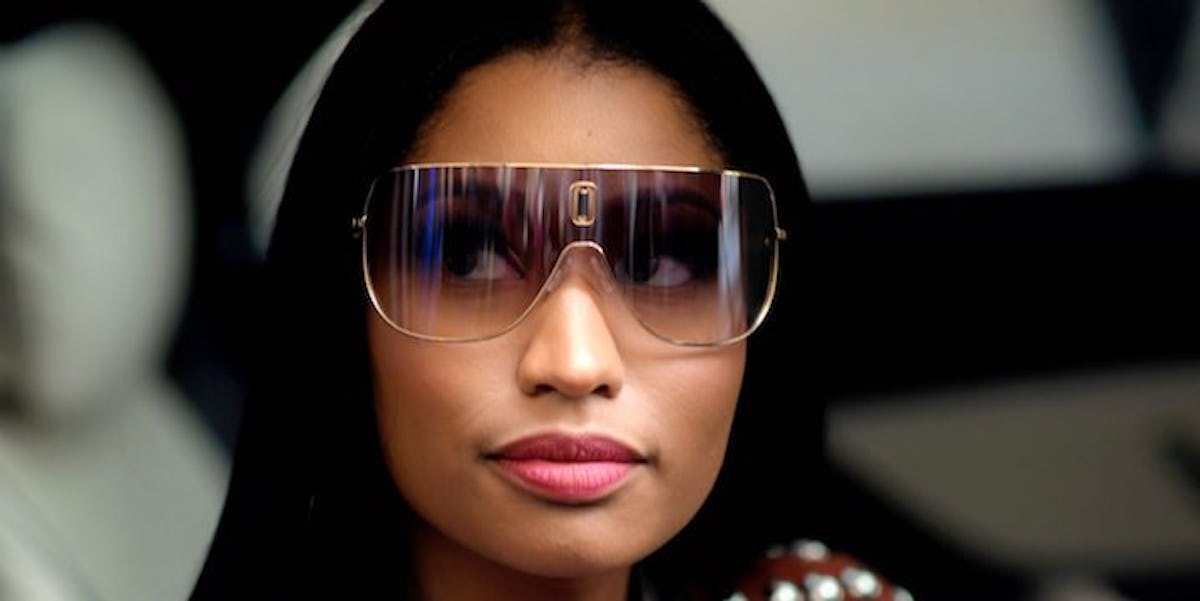 Nicki Minaj Just Dropped The Most Brutal Diss Track And You Need To Hear It
REX/Shutterstock
It's D-Day in the world of hip-hop. Nicki Minaj just responded to Remy Ma's diss track with one of her own, and when I say it's brutal, I mean it's absolutely savage!
In case you are in the dark about Nicki and Remy's feud, let me get you caught up before we dig into to Nicki's delicious disses.
The beef started back to the mid-2000s, when the two rappers were both coming up and claiming to be the queens of rap.
The feud reached the peak of its vitriol a couple weeks ago when Remy released a seven-minute diatribe against Minaj called "shETHER," in which she accused her nemesis of getting bad plastic surgery and infidelity.
Well, now Minaj has fired back with a diss track of her own that's just as vicious.
Minaj actually unleashed three new songs on Thursday night that each include jabs at Remy, but clearly it's "No Frauds" that's the heavy hitter.
In the savage track, Minaj lays into Remy in a long verse, calling out Remy's relative commercial failure and claiming to have photos proving Remy also had plastic surgery.
I mean, just check out this savage verse:
Tried to drop 'Another One,' you was itchin' to scrap You exposed your ghostwriter, now you wish you were scrapped Heard your pussy on 'yuck,' I guess you needed a pap What type of bum bitch shoot a friend over a rap? What time of mother leave her one son over a stack? Lil Boogie down basic bitch thinkin' she back Back to back, oh you mean, back to wack? "Back to Back"? Me and Drizzy laughed at that They say numbers don't matter But when they discussing the kings They turn around and say LeBron ain't got six rings I never signed a 360, bitch you wild dumb That's why Jay ain't clear his verse for your album Shanaynay, you a fraud committin' perjury I got before and after pictures of your surgery Ra took you to her doc, but you don't look like Ra Left the operating table, still look like 'nah'
OK, now let's break some of that down so you can be sure you're picking up on all the savagery.
Nicki starts off by tearing up Remy's follow-up to "shETHER," the less impressive "Another One." She implies that Remy used a ghostwriter for her tracks, and then brings up Remy's famous criminal charge (she went to prison for eight years after shooting a friend who stole about $3,000 from her).
Nicki refutes Remy's  earlier claim that Nicki doesn't actually make much money off her records due to making so many business deals, and finishes off by responding to Remy's surgery-shaming comments, threatening to expose Remy's own surgeries.
And Nicki isn't the only one venting in the new track — her Young Money collaborators Drake and Lil' Wayne also lay into their rap nemeses.
Drake's verse is directed at his famous rival Meek Mill, who also happens to be Minaj's ex-boyfriend. Wayne uses his verse to establish his preeminence over young, up-and-coming rappers.
But obviously, it's Nicki's verse about Remy Ma that's the most vicious. And she didn't just keep her anger in the music — Minaj posted a long message to Remy on Instagram after releasing the diss, throwing down the gauntlet and giving her nemesis three days to respond with another diss track.
Now we just have to wait for Remy's response...
Citations: Nicki Minaj Fires Back at Remy Ma on "No Frauds" (Complex)