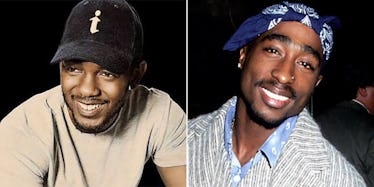 Kendrick Lamar's Original Album Title Was A Tribute To Tupac (Video)
Tumblr
Tupac's influence was one of the driving forces behind Kendrick Lamar's new album, To Pimp A Butterfly, as well as his entire career and purpose as an artist.
The two West Coast rappers share a lot in common, but it's their uplifting messages of sparking change throughout the world that sync them so closely -- even after a generation of separation.
In an interview with MTV News, K-Dot reflected on how far he's come in his career, the thought process behind his art and the meaning behind his latest project.
But, it wasn't until he addressed an album review by Dead End Hip Hop when he revealed (that they revealed) the original title of the project, Tu Pimp A Caterpillar, which, of course, has a familiar meaning.
Lamar says,
That was the original name and they caught it because the abbreviation was Tupac, Tu-P-A-C.
In the final 12-minute track on the album, "Mortal Man," Kendrick also features a conversation between himself and Tupac and it's one of the greatest tributes he's done.
As for why he went with Butterfly instead of Caterpillar, completely dropping the Tupac acronym, K-Dot explained,
Me changing it to Butterfly, I just really wanted to show the brightness of life and the word pimp has so much aggression and that represents several things. For me, it represents using my celebrity for good. Another reason is, not being pimped by the industry through my celebrity.
Kendrick Lamar has come a long way in just a few years, and his latest album is a testament to his growth.
Now, the connection with Tupac will forever be a part of his career.
Check out the rest of the four-part interview below: