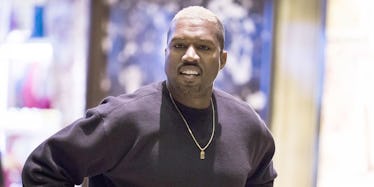 Kanye West's 'The College Dropout' Is 13, So Here's A List Of His Best Albums
REX/Shutterstock
Today is the 13th anniversary of Kanye West's debut album, The College Dropout.
So to honor him, I've decided to properly rank his albums from worst to best. Obviously it's difficult to rank such an incredible body of work. Like the "Harry Potter" movies, even the worst one is still great – but everyone has a favorite.
Complex tried its hand at ranking them, and Chance The Rapper hated that list so much, he tried, too.
So without further ado, here are Kanye West's seven solo studio albums ranked from worst to best.
7. The Life of Pablo
Some people will be shocked this album is in last place. With Chance The Rapper as a producer on many of the songs, some of the songs sound like they belong on Chance's last album, Coloring Book.
Also, there is a very Christian chord that runs through the album, however, juxtaposed with songs talking about "bleached assholes," the album comes across as pretty unfocused.
Then, in combination with that, Kanye shot himself in the foot by hyping it up so much, even calling the project "album of the life" in the way that only Kanye could get away with.
And for the people who cry, "But what about 'Ultralight Beam'?" Kanye has an entire album of "Ultralight Beams."
6. Yeezus
It's my personal opinion this album could be higher on the list, but I understand all the critiques of the album – so here she is.
Yeezus, from start to finish, sounds like an advertisement for the NAACP, which is fine, but pretty alienating for some.
The strongest song on the album is probably "Black Skinhead," and unlike TLOP, the critique for this album is it's single-minded, or too focused on one thing.
It's a polarizing album for sure. It's like "Harry Potter and the Half-Blood Prince" -- some people really hate it and others love it, but there are not many in between.
But there is something to be said about the connection Kanye is trying to make with the content of his music, and the almost primal beats he laid under them.
Also, "hurry up with my damn croissants" is the most iconic line ever.
5. 808s & Heartbreak
An album that many say brought us Drake, 808s & Heartbreak reinvented Kanye's sound with just 12 tracks.
Sing-rap? Whatever it's called, Mr. West serenaded us for the entire album about exactly what he promised: heartbreak. Even sadder still, it was released almost exactly a year after the unexpected death of his mother – a death that many know almost sent Kanye over the edge.
Objectively speaking, 808s and Heartbreak was good. But if you've ever been through difficult times, the album is great. "Love Lockdown" is a perfect representation of the album; it's sad, direct and yet somehow upbeat.
The critique, however, is the album is pretty repetitive, and it is. So it's fifth.
4. Late Registration
I realize this is probably where I'm going to start making people mad, and I'm sorry Chance, but this is not Kanye West's best album.
It's pretty ridiculous anyone even thinks that. The rapping is great. His flow is smooth. But it's not groundbreaking. And that's why it's fourth. "Touch the Sky" is probably the most memorable from the album. Back when MTV played music videos, I actually remember watching this one before heading to like... fourth grade.
The point is, many of Kanye West's fans were too young for this album to have any kind of impact on their lives. Do we know all of the words to "Gold Digger"? Yes.
Is it hilarious the song is basically the story of his life? Oh, yes. JK, Kim K makes more than him.
3. The College Dropout
Happy 13th birthday to Kanye West's career! This album is the beginning of it all. The rapper burst onto the scene with this project.
If it wasn't one of his best, he wouldn't be around in the same way he is now. Kanye prides himself on being a revolutionary, and this first album is proof he was never around to play around with other rappers.
He entered the scene when people like Jay Z and Lil Wayne were in charge of the rap game, and he's surpassed them both.
He said it himself in "Jesus Walks," he's willing to do the things other rappers won't: rap about Jesus, sing about heartbreak, talk about bleached assholes, etc.
And though it is the foundation from which he built his empire, it's filled with a form of narrative rap that is basically dead, and that's why it's third.
2. Graduation
Every single song on this album is a certified banger. And, "Uh, uh, you can't tell me nothing," because I won't listen to anyone else's opinion on this.
This album is one of the BEST rap albums of all time. The production of it is unreal. The beats, the features and the content are all so masterfully crafted, it's hard to not have this album at number one.
Kanye gave us a little glimpse into the future with "Drunk and Hot Girls" and his sing-rap – coupled with some of the ridiculous lines he's know for, like,
Don't tell me, you sing, you about to get a deal You drunk and hot girl 'Ah da da da da.' That's how the fuck you sound.
He also gave us his most idiosyncratic song with "Can't Tell Me Nothing." We really get to take a peek into Kanye West's soul with the line, "I feel the pressure, under more scrutiny. And what I do? Act more stupidly," which we have literally seen him live out over the past couple of months.
I could honestly go on forever about this album. We haven't even mentioned "Stronger" or his song dedicated to Jay Z, "Big Brother."
However, even this BOMB-ASS album isn't his best body of work, so it's in second place.
1. My Beautiful Dark Twisted Fantasy
This is the one made up of 13 "Ultralight Beams." This isn't just a rap album, it's art. I really don't feel like I have to explain myself. The music video for one of his best songs to date "Runaway" has actual ballerinas.
Kanye West changed the trajectory of popular music with this album. The beats are understated and his raps flow so effortlessly from beginning to end. Kanye is up to his old tricks in "Gorgeous", unleashing another iconic line:
Cause the same people that tried to black ball me Forgot about two things, my black balls
Truthfully the whole song is iconic, in six minutes he insults "South Park," compares himself to Malcolm X and Muhammad Ali and complains about sitting in "fucking coach."
The song "Power" is now on every athlete's warm-up playlist. "Monster" is on every good party playlist. "Lost in The World" is every stoner's smoking playlist. He made an album for everyone.
And don't forget about the features: Jay Z, Kid Cudi, Rick Ross, Nicki Minaj, Rihanna, John Legend, Swizz Beats, Bon Iver. I'm falling in love with the album all over again.
My Beautiful Dark Twisted Fantasy wins. That's it. The end.