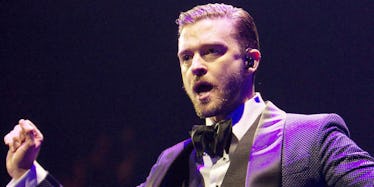 Justin Timberlake's New Song Just Leaked Online And It's Amazing
Kristina Bumphrey/StarPix/REX/Shutterstock
It's Thursday, y'all, and I'm feeling thiiiirsssttyyy... for some new music, that is.
Apparently, my wish is Justin Timberlake's command.
The ex-Mouseketeer and current husband to Jessica Biel just dropped his first song since 2013 titled, "Can't Stop The Feeling."
The song, produced by Max Martin, is incredibly upbeat. I know it's only May, but this song has serious song of the summer potential.
You know that got you moving.
As part of the song goes,
I got this feeling inside my bones/ It goes electric, wavey when I turn it on/ All through my city, all through my home, / we're flying up, no ceiling when we in our zone. I got that sunshine in my pocket, got that good soul in my feet/ I feel like that hot blood in my body then it drops / ohhhh.
This song does exactly what it says and makes you "dance, dance, dance, dance." Listen to the full song below.