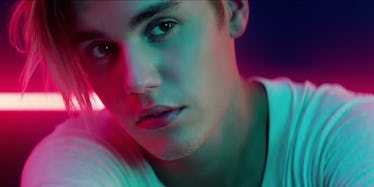 What Do You Mean? Everything Justin Bieber's Tracklist Is Trying To Say
November 13 is the day Justin Bieber will drop his highly anticipated album, Purpose.
Due to the tremendous amount of hype surrounding the album, it seems many people want to know the true meaning behind it all.
But in the meantime, we can assume a few things from the worldwide pop star's tracklist.
Forgive me if I'm wrong, but these are the things I think Justin Bieber means:
1. "Mark My Words"
At 15 years old, Bieber released his debut album, My World.
He was incessantly under the spotlight, and people would twist and manipulate Bieber's words.
Now, he wants to show people what he really meant.
2. "I'll Show You"
After spending seven years under the spotlight, Bieber is expected to make mistakes.
The song is about people thinking they know everything about Bieber, but they truly will never know him.
The line, "It's like they want me to be perfect," has to do with everyone thinking he won't make mistakes.
He is still human. Just like many kids, he has had a few rebellious years, but he grew up and moved on.
3. "What Do You Mean?"
Despite the fact this was the fastest song to hit number one on iTunes, it revealed the beat in life is always changing.
4. "Sorry"
Bieber confessed in an interview:
The biggest misconception about me is I'm a bad person. I get upset about that. I have a big heart. I want to be a good role model, but some people want me to fail. I'm young and I make mistakes. That's part of growing up.
He's apologizing for his actions over the past five years, and he's coming back for a second chance.
5. "Love Yourself"
Your decisions in life will have consequences, but you have to live with them.
Love yourself.
6. "Company"
Thanks to his supporters, family and team, he has come a long way from the kid he was when he first became famous.
7. "No Pressure"
Kids are young and want to have fun. No pressure.
All people are judging you. So let them, and be who you want.
People will talk, regardless of your actions.
8. "No Sense"
There is no sense in overthinking everything.
Bieber is officially redeeming himself with these songs.
It doesn't matter who you are. Everyone faces hard times in life, and sometimes, you have to learn the hard way.
9. "The Feeling"
After singing "What Do You Mean?" at the VMAs, Bieber got pretty emotional.
In an interview on "The Tonight Show With Jimmy Fallon," Bieber explained:
 I just wasn't expecting them to support me in the way they did.
Receiving support after being booed has to be an incredible feeling.
10. "Life Is Worth Living"
Instead of focusing on the negatives and the people trying to bring the Biebs down, he's letting go of the past.
Stay positive and get through the hard times because the best is yet to come.
11. "Where Are Ü Now"
This explains that feeling when everyone walks out of your life when you need them the most.
Justin Bieber is asking for one more shot at forgiveness, both from his fans and the people in his personal life.
Bieber has shown he has a vulnerable side, and he isn't made to be "on" all the time.
12. "Children"
Kids will be kids, and you have to accept they will make mistakes.
Through the past couple of years and relentless shenanigans, the media has exploited Bieber. He admits he was just a kid.
Growing up is a part of life.
13. "Purpose"
This album truly does have meaning, and I have a feeling Bieber's fans will get extremely emotional when this album drops.
With less then two weeks left to go for its release, we know the album has a deeper meaning.
Have a sense of strength to believe in music and its purpose. These lyrics truly define who he has become.
14. "Been You"
He's been there before. His life may have seemed like a cakewalk, but in reality, he's had some pretty hard times.
He's had to deal with endless hate mail, mean comments and people bashing him.
While you were getting bullied in school, the world has been literally hating on him since he was 13 years old.
15. "Get Used To Me"
Trust me when I say, Justin Bieber is not going anywhere anytime soon.
In fact, probably every store you walk into come November 13 will be playing his album as you shop for your holiday gifts.
Get used to it. Bieber is here to stay.
16. "We Are"
"We Are" back?
Scooter Braun not only represented Bieber at the age of 13, but he also helped him with this unbelievable comeback.
"We Are" ready for the emotional and touching lyrics you are about to release.
17. "Trust"
"Trust" me; we know you can sing.
Thanks to autotune and swanky music production, we know music can be manipulated to perfection.
However, Bieber released an acoustic version of "What Do You Mean?" to prove to his fans he's actually extremely musically talented.
"Trust" yourself that you can achieve anything.
Aim high, and never stop trying, even if you feel like the whole world is against you.
18. "All In It"
Going forward, Bieber wants people to understand his passion for music and his commitment to being a better person.
Also, in case you were wondering, there was a song that didn't make it to the album.
It's called "If I Would Have Met You In 5 Years," and it's about his romance with Selena Gomez.
Many people go through life and end up meeting someone.
It feels so right, but it's just bad timing. It's all about timing, and everything happens for a reason.
Enough soul-searching, Bieber. Cheers to your second chance.