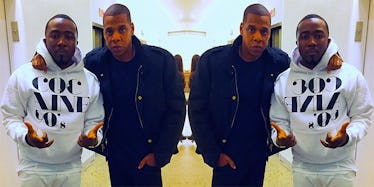 Jay Z Actually Sent His Cousin To Nigeria To Find New Talent For Tidal
Instagram
Jay Z cleared the air yesterday when he went on a very rare Twitter rant regarding the state of his music streaming company, Tidal.
There have been reports of Tidal going under just a month into the operation, but Hov spewed several #TidalFacts confirming his business is, in fact, Gucci.
One tweet even mentions his cousin moved to Nigeria to "discover new talent." He wasn't kidding, either.
My cousin just moved to Nigeria to discover new talent. Tidal is a global company. — Mr. Carter (@S_C_) April 26, 2015
According to Complex, the cousin he is referring to is Briant "Bee-High" Biggs. In his autobiography, "Decoded," Jay said Bee-High encouraged him to "stop hustling" and start taking his music career seriously.
Bee-High still works for Jay as director of mobile strategies at Roc Nation, and now, he's a talent scout overseas.
He even linked Jay with his first Nigerian rapper, Ice Prince, who visited "The Breakfast Club" recently and credited Bee-High.
According to Jay, indie artists who work with Tidal will keep 100 percent of their music, benefitting the composers and fans alike.
Indie artists who want to work directly w/ us keep 100% of their music. "If you don't want the CEOs all in the videos" haa #tidalfacts — Mr. Carter (@S_C_) April 26, 2015
….Tidal is where artists can give their fans more without the middlemen. #TidalFacts — Mr. Carter (@S_C_) April 26, 2015
There are many big companies that are spending millions on a smear campaign. We are not anti-anyone, we are pro-artist & fan. #TidalFacts — Mr. Carter (@S_C_) April 26, 2015
Tidal really is an awesome platform that should change the future of music. The sad part is it still probably won't.
Citations: It Looks Like Jay Z Really Did Send His Cousin to Nigeria To Find New Talent (Complex)