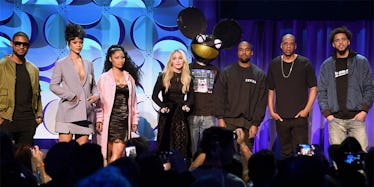 Jay Z's 'Tidal' May Already Be A Flop Just Two Weeks After It Was Announced
Tidal
"Jay Z" and "flop" aren't two words you'd ever expect to see in the same sentence.
But when it comes to the revolutionary new music streaming service, Tidal, which Jay Z bought for $56 million and launched about two weeks ago, it could officially be a wrap.
After a hot start cracking into the top-20 most-downloaded apps on the iPhone market, it's already fallen out of the top-700.
And now according to the Inquisitr, the CEO of Tidal, Andy Chen, has already parted ways with Hov less than a month into the operation.
However, a statement released by the company says the goal is "streamlining" the business:
We've eliminated a handful of positions and refocused our company-wide talent to address departments that need support and cut redundancies. Tidal's offices globally will remain and grow: We are already hiring for several new positions now. We're excited about our future and what's in-store for fans who want the best listening experience.
The service wasn't anything groundbreaking, instead putting more power back into the artist's hands, but the fact that it was simply trying to compete with Spotify instead of taking it over was the company's first mistake.
In a star-studded launch featuring Beyoncé, Chris Martin, Madonna and Kanye West, Tidal's major selling point was the extra-high-quality sound they offered for a premium price.
It didn't go out without a fight, though. Kanye West defended his buddy's business venture in a tweet that's since been deleted.
Nice try Ye. It was a failed business model from the beginning and now, Jay Z is going to have to go back to the drawing board.