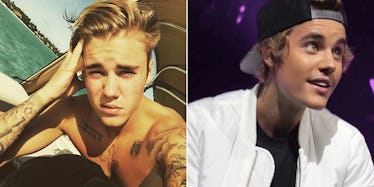 5 Reasons Why It Has Become Impossible To Hate On Justin Bieber
Facebook
The year 2015 has been an interesting one in the pop culture realm. Artists and musicians are becoming ever-so-vocal about their opinions, as well as about their opinions on others. They're stepping up their game in terms of sound and what they want their audience to really hear.
It also happens to be the year Justin Bieber has finally bounced back and found the light at the end of the tunnel.
Plucked from obscurity on the Internet by Scooter Braun, Bieber has grown up in the spotlight for the last six years. He's had to face the trials and tribulations of what it means to become an adult, all while raking in millions and being surrounded by "yes" men and women.
He's done a lot of things I'm sure he regrets, and we all cringed about, but the past is the past. The Justin Bieber we see today is a much more refined individual, one who truly cares about his image and realizes the errors of his ways.
I can honestly say I appreciate the Biebs and can respect him as an artist so much more today -- here's why:
1. Ellen approves.
Ellen Degeneres is the definition of #FriendGoals. She's witty, intelligent, down-to-earth and just a warm person who wants people to feel good.
This past year, she's had Justin Bieber on her show countless times, even though he has not had much to promote, aside from his roast on Comedy Central.
Ellen brought out in Bieber what the world wanted to see: a genuine, happy guy who wants people to like him, all while having a good time. She's done pranks with him; she's had honest conversations with him, and she's treated him with the same respect she uses to treat any of her guests.
If it were not for Ellen, I don't think the Biebs we see today would exist.
2. He's making music worth listening to.
The music Justin Bieber is making today is nothing like those teeny-bopper, catchy, uppity pop songs that made him famous.
His insanely popular and massive collaboration with Jack U (the duo of Skrillex and Diplo) is the biggest hit of the summer, if not of 2015. You can hear it on the radio, on TV commercials and at music festivals all across the country. It's an infectious beat that transcends the opinions of EDM and Bieber himself, as well as music today.
Diplo said in a "Rolling Stone" interview that even though he thought Bieber was a brat, Justin was talented and worthy of the collaboration.
This past week, Justin Bieber dropped his new single, "What Do You Mean," which is another banger you want to listen to on repeat. It follows the same vibe as "Where Are Ü Now."
Justin performed both of these hits last Sunday at the VMAs, and the performance got the crowd all hyped up.
If Justin Bieber can continue to carve out his place in the genre, he has a long career ahead of him. Like the survival of the fittest, Bieber has adapted to the times in order to succeed.
3. He's learned from his mistakes.
One of my favorite roasts on Comedy Central has to be the roast of Justin Bieber.
The fact that Justin asked for the roast in the first place proves he was willing to take the heat the comedians were going to place on him.
He's taking the verbal beating in stride and has made numerous comments this past year about his past and how he knows what he's done wrong. He realizes now it wasn't helping his career.
He is getting on the right track again. If at first you don't succeed, try and try again.
4. It's time to accept him for who he is.
Justin Bieber will be Justin Bieber. There is no denying that.
He is part of young Hollywood, and he's going to be a tabloid fixture for the rest of time.
Justin, like many of his peers, knows he's entitled and wealthy, but he's also young. He's going to make mistakes and do things we might not agree with. Justin Bieber is going to be that artist/celebrity we all scoff at when we hear something ridiculous.
But, if Bieber can make his career only about the music and not about his TMZ antics, he will have smooth sailing.
5. He's this generation's Justin Timberlake.
The most important reason we can't hate Justin Bieber is because he is the new Justin Timberlake.
They have similar vocal ranges; they both started their careers young, and they both have had to grow up in the spotlight. They also continue to re-invent themselves.
We know Justin Bieber wants nothing more than to be respected as an artist as well as a person, but he also wants to cement his legacy as one of the greatest pop acts of his time.
The Justins are both making music that is insanely popular and sought after; they just need the right inspirations and paths in life.
Don't count out the Biebs just yet!