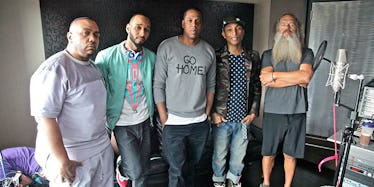 F*ck Your Ethnicity: Hip-Hop Is A Cultural Exchange Made For Everyone
Twitter
I often wonder if the hip-hop lyrics I will listen to in the future will be exclusively from the voices of black and Latino artists, the ones of the early hip-hop movement.
Hip-hop has had many fans, representing a plethora of races and economic statuses, since its beginning.
Today, I believe there is a greater opportunity to break the color lines in hip-hop.
Many of us are familiar with the term "cultural appropriation." In case you need a refresher, cultural appropriation is described as a power dynamic that occurs when a person from a dominant group in society takes elements from a culture that has been systematically oppressed by that dominant group.
In today's society, we have been discussing, specifically, the appropriation of black culture, and a number of issues dealing with cultural appropriation.
The headlines and content in mainstream media usually include names like Iggy Azalea, Macklemore, Justin Bieber or Kylie Jenner.
The articles are filled with jargon such as intersectionality, exploitation and oppression.
But what happens when an artist makes use of a genre or culture, originally used as an avenue of expression for an oppressed group, and creates art equally relatable to other groups of people?
Is such art, especially in hip-hop, even allowed?
Previously, I wrote a piece about the beginning of the hip-hop movement, and how it started as a voice for the voiceless, a form of art for the oppressed.
In the midst of recent conversations about cultural appropriation, I've been learning how to share and expand my love for hip-hop music beyond the confines of the black community.
I'm being challenged to understand that hip-hop is a movement that can cross into many racial and ethnic backgrounds.
It can express the same agenda, the same activism and the same feel-good party music, without being classified as cultural appropriation.
I'm slowly learning that hip-hop can be appreciated and expressed, rather than appropriated, by more than just black and brown kids.
I guess Kendrick Lamar said it best with "F*ck Your Ethnicity," from the 2011 album, Section.80.
Hip-hop music and culture is not an exclusive form of expression for black and brown kids anymore; it is ever-expanding and ever-evolving.
In fact, this isn't anything new.
Since its inception, hip-hop has benefitted from the work and ideas of artists like Rick Rubin and Eminem.
Rick Rubin has worked in hip-hop since the early days, and he was one of the cofounders of Def Jam Records, along with Russell Simmons. He has worked with many artists, such as Run DMC, LL Cool J, Public Enemy and, for the Millennial hip-hop head, Jay Z in the "99 Problems" era.
Eminem, despite most of his content, sets the bar high for multi-syllabic rhythmic structures, and he can easily be classified as one of the best MCs to master this form.
Hip-hop will always have its fair share of storytellers, innovative producers and activists.
In the past year, several artists have aided me in this journey to accepting that hip-hop culture — full of its political and social engagement, as well as house party and club bangers — is a universal language, relatable across a multitude of identities. 
The Storyteller
Azad Right, an Iranian-American artist, began writing poetry like his father, but he fell in love with hip-hop. Growing up in Los Angeles, he became influenced by artists like Nas, Tupac and Eminem.
Like many hip-hop artists, Right's story is distinctive and impacts his artistry. His father was exiled from his home country of Iran for his political beliefs and involvement, and many hip-hop concerts have been banned from the country.
In conversations, Right is certainly much more knowledgeable about hip-hop than I am. He can discuss the poetic styles of Nas, golden years of hip-hop and influential albums like Jay Z's Black Album and Kanye West's College Dropout.
His understanding and passion for hip-hop is both challenging and admirable.
Right plans to use his knowledge to embark on an educational adventure with University of North Carolina at Chapel Hill's Next Level -- a program that takes a diverse team of MCs, dancers, producers and DJs from across the country to foster cross-cultural creative expression in diverse and underserved communities such as Honduras, El Salvador, Uganda and Thailand.
By providing inspiration through records, such as For the Hopeful, Right's love and artistry in hip-hop brings back the flavor of the genre's beginnings.
The Innovator
Jon Bellion, a producer out of Long Island, has been heavily influenced by Kanye West, Pharrell Williams and Andre 3000.
He has had quite a bit of success with production and songwriting, penning the hit, "Monster," by Eminem and Rihanna.
His production, with clear hip-hop influences, crosses cultural boundaries, much like the work of Rick Rubin and Kanye West. Bellion's style fits within the realm of hip-hop with its unconventionality, diversity and authenticity.
The Activists
Heartbeat is a group of Palestinian and Israeli teens, whom I had the pleasure of seeing perform live earlier this year.
The goal of the group is to unite Israeli and Palestinian youth musicians to build critical understanding and develop creative, nonviolent tools for social change.
Hearing Heartbeat perform was the first time I'd heard someone rapping in Arabic, and the message of unity and peace from this group was undeniably influential.
Some hip-hop artists of today are using their lyrical styles to bring attention to social issues in America, and Heartbeat is doing just that.
They are covering issues between Palestine and Israel that we are not seeing on news stations. More importantly, they are promoting peace.
Heartbeat use traditional music, as well as hip-hop, as a platform to creatively express their frustrations about their society. That's not cultural appropriation. That is the expansion and transference of an already-influential movement.
So I ask, with artists like those above, along with countless others, is it possible to have non-black and Latino rappers joining in such a movement, without having the term "appropriation" thrown around?
What if it were merely a cultural exchange, an exchange of artists from different cultures to promote mutual understanding. Hip-hop is, and will continue to be, influential, innovative and impactful.
Hip-hop is an avenue for creative expression, as well as social outcry and a form of education.
This movement is continuing to grow after nearly four decades, and the diversity of its lyrics, styles, production and even ethnic groups is a profound example of the unity we wish to see in this country.
The heart of hip-hop's influence — through storytelling, innovation and activism — will always permeate beyond race.