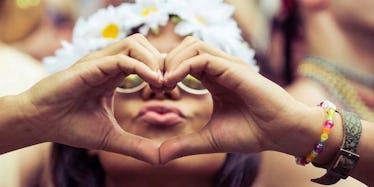 I Grew Out Of EDM, But I'm Forever Thankful For The Memories It Gave Me
I realize most people don't consider EDM the pinnacle of musical greatness, and like all empires, it is bound to fall.
But I will always have my memories.
The first time I heard the clicks, whirs and bounces that encompass EDM music was when I was in Germany at 16 years old.
I was there for a tournament with my soccer team, and there were tons of parties with alcohol (!). I wrote my college admissions essay about the experience.
I didn't drink at home, but since it was legal there, I had a shot or two, and wondered how this robotic noise was really considered music.
Fast forward a few years, said essay got me into Rice University, and then an internship in Milan, Italy.
I went from the slow thumping bass of Screwston, to the elite discotheques with chandeliers, gold bathrooms and pulsating house music.
While I loved being around the beautiful people, I did not appreciate this crazy European sound, with its overly simplistic words and repetitive beats.
How were you supposed to shake your butt — to really get down — to ridiculous sounds like this?
Then, when I left Italy for San Diego, I missed it.
Luckily, San Diego is probably second only to Vegas in terms of EDM scene.
Beach bros in tank tops, and girls in impossibly small bikinis, packed into bars on the sand.
We fist-pumped until the sun sank below the ocean on the horizon.
But the crowning experience for me was Wet Electric.
Wet Electric was a festival held for two years at (now-closed) Wild Rivers waterpark in Irvine, California.
That's right: It was bunch of house music stages at a massive water park, with thousands of people in swimsuits, losing their minds.
It was where I first heard Calvin Harris, back when he sang his songs, saw Morgan Page, and heard Klass' explosive remix of "Where's Your Head At?"
Every time the bass dropped in a DJ set, everyone would splash in the pool until it looked like a geyser show.
Maybe it's the music, maybe it's the drugs, but the thing about Wet Electric that solidified EDM's place in my heart is that everyone dances.
I come from Austin, where people go to indie shows, and are too cool to do anything other than stand with their arms folded.
But at EDM shows, everyone jumps, pumps, bounces and sings.
For someone self-conscious like me, it was one of the only places I could actually let go.
It was a huge relief.
People don't really fight or cry at shows; in fact, they usually take care of each other.
You go to a show to have a good time, to be happy and be a part of a massive gathering of positive energy.
I realized you don't get down to EDM music, you get up.
So, in my early 20s, I became a small part of this scene.
I never did drugs, I never wore the furry boots (though I did have some pink eyelashes), but my hands were often up to the sky, waiting for the bass drop.
I was up until dawn for massive shows, like EDC in Las Vegas and New York, where Porter Robinson and Dada Life made sure fatigue was not an option.
That is, until I returned to the real world, trudging to work at 7 am, completely disoriented.
I was right by the decks for poolside sets from Steve Angello and Calvin Harris, smiling and making friends with strangers.
For a couple of years, it was the most fun I could have.
In 2012, I moved back to Austin, land of, "Oh, they're kind of folk-indie … you probably haven't heard of them."
It took a long time for an artist to come to town that I even wanted to see, and when I finally ventured out for Madeon on a Tuesday night, I just felt old compared to all the college students in feathers and leather.
My playlist filled with Milo Greene and Geographer.
I watched Snapchat stories of festivals, and wondered how I ever did that, thinking my time was done.
Then recently, a magazine I write for sent me to interview Cash Cash, and I was offered tickets to their upcoming show.
During the opener, I stood at the outskirts of the crowd.
I was 30 years old and wondering who the hell I thought I was, as the girl next to me bounced in a rainbow headdress and hot pants.
But then Cash Cash started to play.
EDM music is said to mimic the beats per minute of an excited heart.
It affects us on a very visceral level, which is why we get the urge to dance, instead of paying attention to the lyrics or what other people think.
When Cash Cash came on stage, it spoke to my heart.
Suddenly I was back in Germany, in a foreign country for the first time, staring at the same stars.
I was at the discoteque in Milan, falling in love across the dance floor.
I was splashing, dancing and laughing at Wet Electric, for the first time not, giving a sh*t if I looked like an idiot.
I was at a concert in Austin with one of my best friends, feet jumping and heart buzzing.
I was everywhere, and I was so happy.
I know the era of EDM will come to an end.
A light show flashing behind some guy alternating between fiddling with a computer and fist-pumping (which, why is that even still a thing?) will no longer be enough.
Tastes will change, and some other genre that we can't even imagine yet will sweep the nation.
People will complain that new genre is the downfall of music, and the cycle will repeat.
But EDM music will always hold a special place in my heart.
It's a thread connecting some of the most fun I've had as a young adult.
Peace, love, unity, respect.