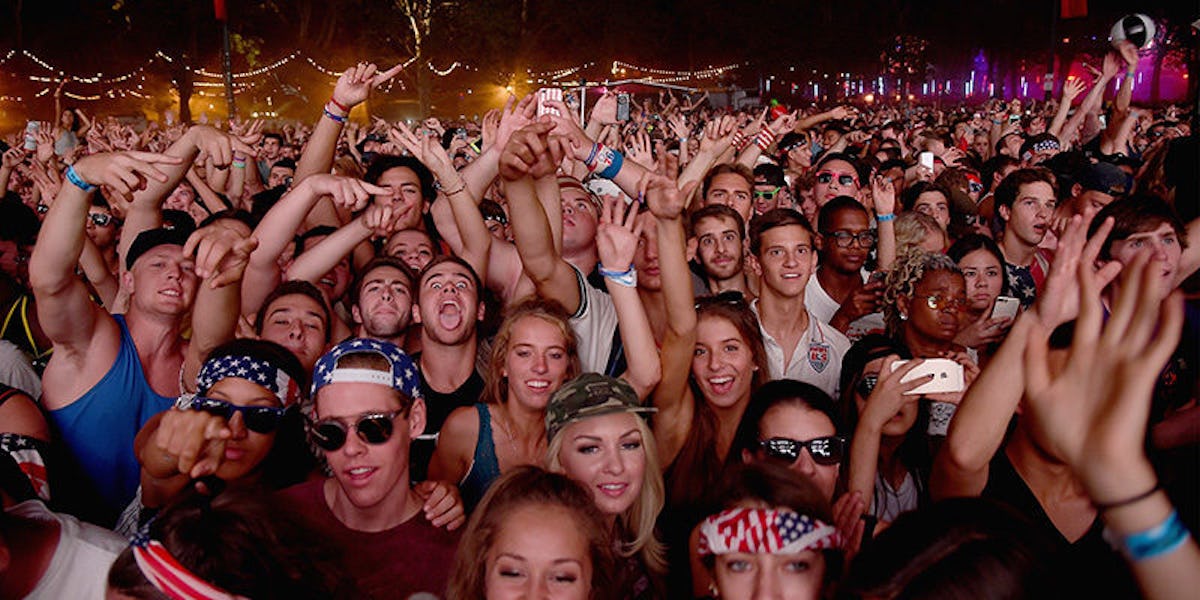 Good Songs Have Their Endings: How A Festival Shaped My View Of Death
Getty Images
He had been sick for some time, but there was always hope for recovery.
My best friend, Cori, constantly kept us up-to-date on the health status of her father, who had been hospitalized since November of 2014.
While he showed various signs of improvement, a few months later, he took a turn for the worse. His organs began to fail one by one, leading to his doctor giving him one day to live.
He was gone, and Cori's world was forever changed.
The funeral was set for Saturday, September 5, the same day as the Made in America music festival I was supposed to cover.
Of course, that all changed immediately, as I'd never choose a f*cking concert over Cori. She asked me to sing at the service, which I did, and it proved to be one of the toughest things I've ever had to do.
After all, this wasn't just some distant figure of a friend's parent; I knew Mr. Davis. He was lively, hilarious and the trillest guy over 50 I'd ever met.
To say the day was emotional would be an understatement.
Surrounded by grieving friends and family, I couldn't help but think of the larger reality of death.
As young people, it isn't something we confront often. So when it happens, we're forced to reflect.
Seeing my best friend and her mother break down caused me to lose it as well, taking me back to my own grandmother's passing late last year.
While thousands of music fans were basking in Beyoncé's glow just a few miles away, my heart was heavy with thoughts of the afterlife.
These are the moments when the world just feels so heavy, and for me, that heaviness manifested itself physically. I was drained by the end of the service.
While any funeral is bound to be upsetting, Cori and the rest of her family were determined to make the day one Mr. Davis would have enjoyed.
He was a fun-loving guy who wouldn't have wanted us moping around in his memory.
In his honor, the family put together a block party where we all danced and reminisced over this son of South Philly. It awakened our spirits and put things in perspective.
His life on Earth may be over, but he lived. Hell, I'm sure he turned up at a concert or two in his heyday.
This realization made me a bit more comfortable about attending the second day of MIA, and with Cori's blessing, I was on my way.
I picked up my press pass around noon on Sunday, and two hours before anyone hit the stage, there was already so much young, exuberant energy around me. It was a stark contrast from the previous day's dark aura.
It was almost off-putting, attending a music festival less than 24 hours after singing "Amazing Grace" to a sanctuary full of mourners. It was a mindf*ck to say the least.
Between catching the best sets (J Cole and Future murdered it.) and hustling interviews, I found my mind wandering back to the dark place. But, I was immediately brought back to the present by the rush of incredible music, good friends and the urge to fully embrace this experience.
So, I let myself simply be.
I noticed the things we so often take for granted manifest themselves in the form of great stage shows on the Benjamin Franklin Parkway.
Seeing Big Sean perform "One Man Can Change The World" (prompting two girls beside me to break down in tears) as the sun set was an amazing moment. It hit home even more when the Detroit MC dedicated the performance to his own grandmother, who passed not too long ago.
I couldn't escape the idea of death even when I tried, yet it wasn't sad. It was inspiring and, I might say, joyous.
Being shoulder to shoulder with shirtless concert goers who danced in 90-degree weather all day wasn't the most comfortable feeling, but it was something I needed.
Feeling the sweat, smelling the dirt mixed with pheromones and euphoria was an amazing break from the conventional all-black and all-somber affair of a burial.
I wanted to simply feel alive and connect with my fellow man.
Connected hearts pumping and legs jumping in unison to Axwell and Ingrosso provided me with a sense of inner peace, though it was one of the rowdiest experiences that day.
The bass was so heavy I could feel it in my throat.
Music always teaches me life's greatest lessons, and this experience is no exception.
A good friend I met up with told me I basically experienced "the circle of life" in less than 48 hours, and he was right. I felt all of it.
I felt grief, sadness and confusion, as well as joy, laughter and love. Attending this music festival the day after a funeral let me know that while death and pain are inevitable, we need to enjoy life while we have it.
Dance, sing, love and be loved while you still can. Mr. Davis did, and I intend to as well.
Cheers.
Dedicated to Mr. Michael Davis of Philadelphia, PA.