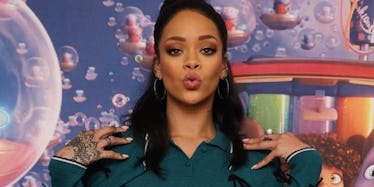 RiRi Says: 5 Empowering Quotes From The Baddest B*tch In Music
Getty Images
Rihanna doesn't just drop the hottest hits; she also drops some knowledge and a ton of inspiration. When she isn't "Pon de Replay"-ing it all over the clubs, she's inspiring us to kick some ass and take names.
Whether it's in an interview or on stage, Rihanna speaks some serious words of wisdom.
She shows all of us how to live our lives to the fullest, love ourselves and be ourselves.
1. "I'm crazy, and I don't pretend to be anything else"
Let that crazy flag fly, RiRi. We all should learn to follow in those footsteps and embrace our inner crazy.
Craziness fuels our passions and dreams. Rihanna knows it, and she isn't afraid to show it.
We have to stop hiding our uniqueness, and show the world our true selves.
2. "People think because we're young, we aren't complex, but that's not true. We deal with life and love and broken hearts in the same way a woman a few years older might."
No matter the age we feel, we all go through things, we've all been through things and the year we were born doesn't change that.
We "youngins" are wildly independent, complex and pretty much awesome.
We are an entire generation of people who are going to run the world one day, and we appreciate the love, Ri.
3. "You just want something else that someone else has, but that doesn't mean what you have isn't beautiful, because people always want what you have, and you always want what they have. No one is ever 100 percent like, 'Yes, I'm the bomb dot com from head to toe!'"
We live in a world where comparing who we are and what we have is the norm. But Rihanna said it best: What we do have is beautiful.
Some days, we might not feel like the "bomb dot com," but there are so many wonderful things in our lives to be totally pumped about.
One day, we'll be envious of what our friends have, and the next, the role is reversed.
At the end of the day, each of us should always be grateful for the things and people we have in our lives.
4. "When you realize who you live for, and who's important to please, a lot of people will actually start living. I am never going to get caught up in that. I'm gonna look back on my life and say that I enjoyed it — and I lived it for me."
We are our own biggest supporters and competitors. We constantly try to push ourselves further, and we try to beat our own records.
Living a life to please other people isn't living. Living lives we are happy with and cherish are ones worth living and remembering.
We have to start living for us and say goodbye to the haters. Rihanna would do it.
5. "You have to just accept your body. You may not love it all the way, but you just have to be comfortable with it, comfortable with knowing that that's your body."
Society tells us to be skinnier, more toned and to fit into certain sizes. Well, I think society needs to take a seat and listen to Rihanna.
There are days where we love how we look, and there are days when we wish we could just wear a garbage bag to cover our bodies. That's okay.
When we truly begin to accept what we have, we will show the world all of our amazingness. Flaunt your stuff and listen to Rihanna.
She knows what she's talking about.
This girl is slaying the game in music and in life, and she knows what she's talking about.
Embracing ourselves and loving the lives we're living isn't just going to make us better. It's going to make us bolder, stronger and just as badass as Rihanna.