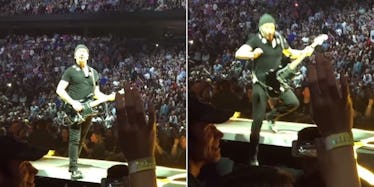 U2 Guitarist The Edge Falls Off Stage In A Beautifully Ironic Fashion (Video)
U2 guitarist The Edge fell off the edge of the stage during a recent concert in Vancouver.
U2 was in the middle of playing "I Still Haven't Found What I'm Looking For" while The Edge strolled down the elevated platform.
The Edge wasn't aware of his surroundings, however, and he took one too many steps. It looked like he fell pretty hard, and the spill even stopped some of the band members from playing for a few moments.
Thankfully, The Edge was more or less unscathed by the incident.
He just suffered a few minor bruises on his arm as you can see below in the photo he posted on Instagram.
Citations: The Edge falls off the edge of the stage in spectacular style during world tour (Metro)