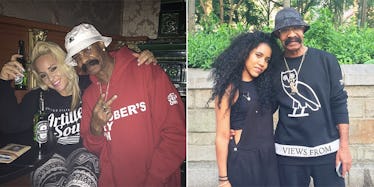 Drake's Dad Has So Much More Swag Than Drake Ever Will (Photos)
Instagram
Drake has been swagging off heavy this year.
From dropping two number one albums to turning Meek Mill's career into a meme and getting bagged by Serena Williams, it's hard to argue there's anyone realer in the game right now.
Of course, swag is passed on through genetics, so you wouldn't be surprised he got it from his pops.
Drake's dad is one of the most swagged-out individuals and, without even being Drake's dad, could probably take your bitch.
Dennis Graham is one fly man. For those of you who don't believe me, here he is on Instagram just flexin'.
Drake showed the world exactly where he got all his swag when he posted this rare image of Dennis Graham.
You can really see the similarities in so many ways.
But there's still many things he must teach young Aubrey.
Like how to rock that all-denim look without looking corny...
...or how to play live instruments during his own performances!
What's for sure is that he taught Drake how to turn up...
...and how to make sure he's always switching things up.
You ever wonder who the 50-year-old at the sorority party is? It's Drake's dad.
Or who the dude on a date with two girls at a restaurant is? It's Drake's dad.
If you were wondering who that fly dude at the bar is, it's Drake's dad!
Or who just scooped two more girls half his age? Well, we certainly know it wasn't Drake!
Being Drake's dad means constantly networking...
...and making sure to always remind yourself, dammit, you're Drake's dad!
When your son is a star, that means you're living like one too.
You might even have to get in the booth and spit some bars.
Here you can see the swag similarities for sure!
Drake will probably be wearing that same shirt next week.
You know the saying: Like father, like son.
Dennis Graham is balling out of control!
He may be the most interesting man in the world when all is said and done.
And that's for more than one reason!