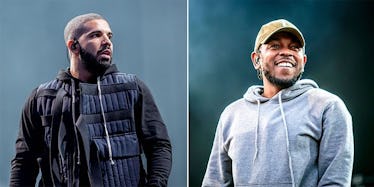 Drake vs. Kendrick: Do Rappers Have to Be Socially Conscious To Be The Best?
REX/Shutterstock
The nature of rap is competitive.
In other genres like pop or R&B, artists have more freedom to express themselves, whether with their voice, harmonies, features, etc.
But if you break down what's going on in rap music, you'll realize it's essentially rhythmic talking to a beat. Since that is the formula for the entire genre, it's not only important, but necessary, to separate yourself.
You've got to be an individual and you've got to be at the top.
So how do you do that? What does it mean to be the best in the industry?
Elite Daily analyzes two of the most widely discussed rappers of the moment, Drake and Kendrick Lamar, and weighs them against one another using their most recent projects.
However, the comparison raises an important question: Do rappers have to be socially conscious to be considered the best?
More Life by Drake
Drake makes good music.
As the most-streamed artist in 2016, and the only artist to have a song hit 1 billion streams on Spotify — "One Dance" — he is at the top of his commercial prowess.
Seriously, More Life is incredibly catchy, easy to listen to, smooth and an overall pleasant listen.
However, it's difficult to ignore the albums major pitfalls. Critics of the 81-minute, 22-track album fault the project for it's corniness, it's vapid subject matter and it's cultural appropriation (reminder, Drake is not from the Caribbean).
But more importantly, he is still rapping about the same damn things: He's the best, he has no real friends and it's fun to be rich. The content is neither refreshing nor culturally relevant. How many other rappers push that ideal? Plenty. He's just the most convincing.
Drake paints a picture of the high life, and the picture is aesthetically sharp and palatable — we all want to be him.
His music is basically deaf to all social issues, but because of that it's not alienating. Still, can you really say you're the best if you're only trying to please the masses?
DAMN. by Kendrick Lamar
Kendrick Lamar is not here to please.
Real, relevant, aggressive, socially derived and critically acclaimed, DAMN. is the kind of project that alienates people who don't want to hear the truth.
Rooted in urban struggles and the less-than-glamorous life of minorities, K. Dot raps about a bleeding America. In"The Heart Part 4" — a single he released back in March — he says, "How many leaders gon' tell you the truth after me?"
The market; Donald Trump; electoral votes; dying youth; police brutality; Fox News; God; wealth.
DAMN. has been out for less than 24 hours, and critics unanimously agree, it's a work of art.
Not solely about politics, but not ignoring them either, Kendrick's latest seems to be genuinely be focused on his life, which is not limited to but does include wealth.
Kendrick Lamar has his ear to the ground and is listening for the pulse of America. It's evident. Like any good poet, Lamar leaves his listener disturbed.
Like Lil Yachty in this video of him listening to Kendrick's opening track "BLOOD."
So that brings us back to the question: Do rappers have to be socially conscious to be considered the best?
Yes — yes they do.