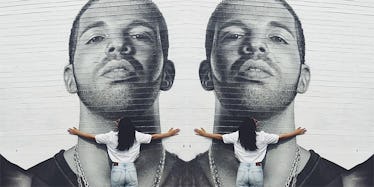 Drizzy Taught Me: 20 Things We Wouldn't Know If It Weren't For Drake
Instagram
Rapper and boyfriend of Nicki Minaj, Meek Mill, took to Twitter last Tuesday to expose Drake, claiming he has a ghostwriter who penned most of his famous hits.
While ghostwriting isn't new to the music industry, it is definitely looked down upon in the rap community.
Rappers are different artists because their craft is about adroitness, zing and proficiency.
Drake is considered particularly masterful when it comes to lyrics, and he leaves us hanging with his every play on words.
Meek Mill was definitely using those claims to discredit Drake and the impact he's made on hip-hop culture.
Drake's songs are filled with brilliant rhymes and slick, empathetic lyrics. As a skilled writer, Drake's reputation has hinged on the fact he writes most of his music.
So, this revelation threw a wrench into Drake's credibility.
Since Tuesday, Meek Mill publicly apologized at Nicki Minaj's concert and on Twitter, while Drake came back with a diss track, appropriately titled "Charged Up."
Drake brilliantly slammed Meek by saying:
"Wow, I'm honored that you think this is staged I'm flattered, man, in fact, I'm amazed."
He also alluded to the track Drake did on Meek's album, Dreams Are Worth More Than Money, by spitting:
"Done doing favors for people 'Cause it ain't like I need the money I make off a feature."
In true Drake fashion, he was only getting "charged up" because he also released "Back To Back Freestyle," which had a faster pace, and took more definitive and specific shots at Meek Mill.
Drake cleverly rapped:
"Is that a world tour or your girl's tour?" "Shout out to all the boss bitches wifing n*ggas."
With "Back To Back Freestyle," Drake solidified his place as one the greatest rappers of today.
Since arriving to the music scene in 2009, Drake has given the world golden moments in music that have shaped how we live and speak.
Without Drake, we would not have learned these essential 20 things:
1. We wouldn't know the meaning what it means to be "fancy." ("Nails done, hair done, everything did.")
2. We would all still be struggling over the equation, √69.
3. Woes are not problems, but your friends who are "Working On Excellence."
4. Answering questions with "HYFR" is perfectly acceptable.
5. More people seem to religious, claiming they are "way up" and feeling "blessed."
6. Starting from the bottom does not mean coming from absolutely nothing, but working your way up until you're the best.
7. The motto is in fact, YOLO.
8. We know how to accurately refer to Toronto: The 6.
9. It's definitely okay to sometimes drunk dial your ex à la "Marvins Room."
10. Rappers can definitely sing in one verse, and spit major fire in the next.
11. Guys get emotional about breakups, too.
12. Sometimes, men gossip more than women.
13. Women with a little attitude aren't difficult, and they make the relationship worthwhile.
14. The perfect time to have the club go up is in fact on a Tuesday.
15. It's okay to put energy into becoming better so you can "know yourself" or just be "doing" you.
16. It's okay if your handwriting still looks like chicken scratch (see: If You're Reading This It's Too Late album cover).
17. Women have created higher standards for men with the phrase "Drake wouldn't treat me like this."
18. We wouldn't know the dangers of "Drake-ing and Driving."
19. Grammy awards are best used for drinking out of.
20. Drake's real name is not Aubrey Graham. Last name: Ever. First name: Greatest.
If there was a ghostwriter behind all of Drake's influential bars, then Drake is the perfect Adonis to have uttered these lyrics that have defined our generation.
Let Drake live, and let us enjoy his music that has blessed our lives since day one.
Drake isn't going anywhere, Meek Mill.
When Meek can make the club go up on Tuesday, come and find me. Until then, I will still be blasting "Know Yourself."