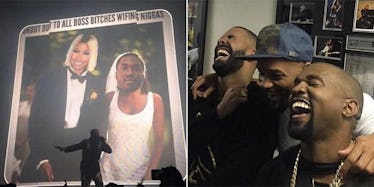 Drake Completely Owned Meek Mill During OVO Fest, And It Was Hilarious
Twitter
Drake put what seems to be the final nail in the coffin of what's left of Meek Mill's career at his sixth annual OVO Fest in Toronto last night.
The highly anticipated show started getting buzz when people saw Drake was going to perform in a "Free Meek Mill" shirt.
Drake -- Mocking Meek Mill Is All the Fashion (PHOTO) http://t.co/wt2ERBkq7G pic.twitter.com/Ms7cVsRhj4 — TMZ (@TMZ) August 3, 2015
If that wasn't enough, he actually performed both diss songs he recorded for Meek last week and had a special surprise for his fans.
By the time the show started, fans were chanting, "F*ck Meek Mill!"
pic.twitter.com/g0vlTcz5bG — Zoo (@BILLIE_EMANI) August 4, 2015
This was the performance for the second track, "Back To Back."
He displayed all those hilarious memes on a giant screen behind him and provided a perfect backdrop to the diss.
Drake put Meek Mill on the #OvoFest screen pic.twitter.com/DdGB78te61 — Nigel Int'l D. (@Nigel_D) August 4, 2015
And they just kept coming.
Wow @Drake performs #BackToBack at #OVOFest. Sorry @MeekMill pic.twitter.com/kebqQuLDTb — BAROLINE (@Barolinnne) August 4, 2015
Some were actually pretty hilarious.
And others were straight up disrespectful.
Drake undoubtedly won the war, but now, he's just pissing on a corpse.
Meanwhile, while all of this was going down, Meek was completely unaffected by the situation and had time to post this picture while getting his teeth whitened.
If you want to see what cyberbullying looks like, check out the comments on the photo above.
The mood was completely different on Drake's side.
He brought out Kanye and Will Smith to share a laugh with him afterward.
But if Meek Mill thought this was over, Drake pretty much confirmed a third track called "3Peat" is coming.
The moment when Drake confirmed that #3Peat was coming and everyone lost it at #OVOFest pic.twitter.com/o64qCIDJ4d — Nadeska Alexis (@neweryork) August 4, 2015