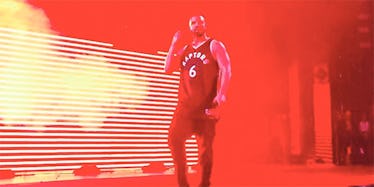 Drake Unveiled New Raptors Jerseys While Clowning Meek Mill On Stage
This is a two-birds-one-stone situation if there ever was one.
For most of last night, Drake appeared to have just one thing on his mind: clowning Meek Mill.
Before his performance, he wore a "Free Meek Mill" shirt.
Drake Wears 'Free Meek Mill' T-Shirt Ahead of OVO Fest http://t.co/Lcidzl3hDo pic.twitter.com/kJIBZ1V7By — Rap-Up (@RapUp) August 3, 2015
As he began performing his latest Meek diss track, he had a reel of memes playing behind him.
Drake is such a savage with the memes pic.twitter.com/8x6JMcBBHe — 30 Second Clips (@30SecondCIips) August 4, 2015
He even got Kanye, who never smiles, and Will Smith, who's from Meek's hometown of Philadelphia, to laugh endlessly with him about the performance backstage.
Drake, Kanye and Will Smith backstage at OvO Fest laughing at Memes clowning Meek Mill pic.twitter.com/2s8heC1A9b — DJ Akademiks (@IamAkademiks) August 4, 2015
Literally everything Drake did last night seemed to revolve around having fun at Meek Mill's expense.
Little did we know, Drake was simply juggling responsibilities.
Deep in the night, as social media was collectively catching its breath from laughing at all the jokes made possible by Drake's performance, the Toronto Raptors thanked Drake for unveiling the team's new jerseys while on stage.
With the help of @Drake @ #OVOFest & @NBA2K, #Raptors reveal 2015-16 Uniforms. Images & More: http://t.co/XvoRmNiMId pic.twitter.com/GBPE9m40zx — Toronto Raptors (@Raptors) August 4, 2015
And here's the full 2015-2016 jersey range for the Toronto Raptors.
That brings us to three conclusions:
One, the model Drake wore, a black and gold edition, is definitely an ode to OVO. Two, it's a must have.
And three, Drake definitely knows how to multitask.