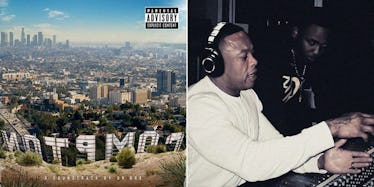 3 Ways Dr. Dre's 'Compton' Unites OGs And Millennial Hip-Hop Fans
Twitter
Every day, I thank my lucky stars I was born in the hip-hop "sweet spot," aka the mid-1980s.
While I may not have seen legends jamming in the park, my earliest memories of hearing Ice Cube, 2Pac and the pioneering sounds of Dr. Dre gave me a sense of pride. It is undoubtedly the reason I have such a love affair with the 90s, the decade that raised me.
Speaking as a California girl, 90s West Coast rap is, perhaps, the most important subgenre of the entire culture.
Growing up, I made a conscious decision to avoid the pitfalls of stereotypical hood life based solely on hearing "Brenda's Got A Baby." I told myself at the age of 7 that would never be my story.
I remember dancing to "I Get Around" the following year, doing the Humpty Hump in my Catholic school uniform with my friends at Compton's Our Lady of Victory.
Hearing the G-Funk of Warren G and Nate Dogg on The Beat, or seeing Snoop in the "What's My Name" video spitting atop legendary SoCal music store, VIP Records, gave me an early sense of pride in hip-hop and Los Angeles.
I still almost shed a tear whenever I hear "Fool, you know how we do it" randomly on my Pandora.
Yes, the West Coast had a hell of a run, and hip-hop in general flourished in the 90s, but there was a considerable time gap in-between California holding down the crown.
After the introduction of The Game and his instant classic, The Documentary, the West seemed to have gone silent.
Of course, LA and the Bay had their own artists and movements, but as far as national acclaim, the South began to make its mark as the place to be.
In the meantime, kids like YG, Ty Dolla $ign, DJ Mustard and Dom Kennedy were sitting back and observing where the culture was and how they could take it to a new and exciting place.
Influenced by the likes of DJ Quik, Suga Free, Kurupt, Daz Dillinger and so many other legends, they took the game back, but unfortunately, some of the OGs weren't having it.
"This that young n*gga music. I ain't wit it." These words were uttered by a friend's uncle about early YG record, "Toot It and Boot It."
He went on to complain about young West Coast MCs, saying their music lacked the funk, the heart, the meaningful lyrics and the creative storytelling the OGs created.
He proceeded to bump Friday: Original Motion Picture Soundtrack just to get his point across.
Old enough to remember the classics and young enough to appreciate and party with my peers (again, that sweet spot), I know there is a divide between generations of hip-hop heads.
Down in Atlanta, I'm sure there are those who roll their eyes at Gucci Mane while bumping Southernplayalisticadillacmuzik up to 11.
Hell, I'm sure Miles Davis pissed off a few jazz traditionalists when he dropped In a Silent Way in '69.
Eventually, however, there has to be a unifying moment. For West Coast rap fans, Dr. Dre's latest, Compton: A Soundtrack, is that moment.
Here are the reasons why:
1. Dre embraces old and new soundscapes.
Dre's production of this record is exquisite because it manages to stay true to his signature sound without feeling dated.
It also incorporates elements of today's popular hip-hop, without that annoying, "Dad's trying to be cool in the club" vibe, which veteran artists often slip into while trying to keep up with the youngins.
He knows who he is, but he isn't afraid of growth. It shows.
2. Snoop Dogg and Kendrick Lamar bring it all together.
I mean, who doesn't love Snoop? He's a member of an elite class of artists (including Jay Z, Nas and Busta Rhymes) who has managed to stay relevant for over 20 years, only to gain fans along the way.
Save for a few side-eye moments, he's pretty damn consistent, too. His inclusion on this album works as an adhesive for old and young heads. (Not to mention, his two verses on this record are exceptional.)
Kendrick represents the same idea for Millennials: He not only embodies us, but he also has far more OG respect than many of his Californian brethren who also rhyme.
It's also painfully obvious he penned more than a few verses for other artists on this album, as his flow and cadence are unmistakable, even when coming from foreign lips.
Both Snoop and Kendrick have reached beyond their respective generations, which will bring ears of all ages together in the name of the funk.
3. Dre embraces young talent and allows them to shine.
So many artists are just praying for the right co-sign to get their name out there. But, time has proven again and again that a simple co-sign can be as helpful as having a spoon to dig a crater.
On this album, Dre is not only providing shovels and excavators, but he also is letting artists like King Mez, Justus, Candice Pillay, Anderson .Paak and Jon Connor take control. He gives them wax time and writes credits any newbie would kill for.
These guys also have their own smaller, younger fan bases that will hop all over this album. It's pretty much a win-win for all parties involved, if they use the opportunity wisely.
As much praise as I'm giving this album, I still prefer both The Chronic and 2001 over Compton, but if we're talking big picture and the ability to unite an often-divided culture, Compton gets the job done.
If this is really the last album, then thank you, Dre, for the memories.
Compton all day.