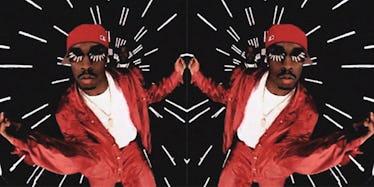 How Puff Daddy's 'Diddy Bop' Inspired All Other Dances Of Our Time
YouTube
It should come to no surprise Diddy was turning up all over Vegas for the big Mayweather vs. Pacquiao fight this weekend.
Those of you who know anything about Sean Combs know that also means he was doing his signature dance everywhere he went.
Diddy carefully crafted the Diddy Bop when he was still known as Puff Daddy, and it's been a winning move ever since.
The imitation that has followed is something that's often seen but never acknowledged. Until now.
For such a simple and lazy dance move, it may be the most important phenomenon ever, considering it inspired every dance trend that's come after it. Find out why below.
The Diddy Bop became popular in the 90s when Puff Daddy was dancing all up in the videos; all on the records, dancin'.
Now, guys like Chris Brown are trying to do the same thing...
Still, we'll never see a man feel himself more than this.
The real question is: How many other things did this inspire after its creation?
The Shmoney Dance comparisons are 100 percent valid.
Diddy's son, Justin, already called Bobby out for it.
And it's pretty easy to see how this...
...was all started by this.
Now, Drake's all up in the clubs doing it...
NFL players are using it for their touchdown celebrations...
Of course, ladies really love it, too...
But nobody's doing it better than Beyoncé.
This right here proves Diddy really did start it all.
Don't even try to tell him he didn't.
Since then, we've seen different variations of the Diddy Bop like "Lean Back"...
"Lean Wit It, Rock Wit It"
"Pop, Lock, & Drop It"
"Chicken Noodle Soup"
The "Stanky Leg"
The "Jerk"
The "Dougie"
The "Cat Daddy"
And, of course, the "Nae Nae"
Diddy doesn't mind all the imitators, though!
He's going to keep on doing his damn dance...
...and keep getting his money.
Even if Kanye is trying to pass it off as his own...
Or Dave Chappelle uses it as his inspiration...
Diddy truly can't stop and won't stop.