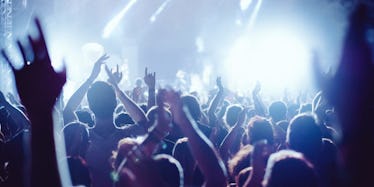 Science Says Going To A Concert Can Be Just As Effective As Medicine
I have a playlist on Spotify that I handcrafted myself for whenever I might be feeling a little under the weather. It is appropriately titled my "Feeling Sh*tty" playlist.
While it might not be the most fitting combination of songs to play if I was about to, let's say, embark on a night of flamenco dancing -- it certainly gets the job done during those times when I just want to escape reality.
There's some Elliott Smith, some James Blake, a lot of Radiohead, a lot of the classic "I hate my life" ballads that disgruntled teens meditate to when they're feeling down and out.
Music has the keen ability to transport you from whatever you might be dealing with -- and take you somewhere else, albeit temporarily. Whether it's through some specific lyric or the greater aura of a song, in general -- it's hard to dispute the transcendental nature of music.
Ultimately, music is the remedy for a number of issues -- but perhaps in a more literal sense than you might've thought.
According to one study conducted by the Memorial Sloan Kettering Cancer Center -- comparing the effect of live music vs. recorded music -- data showed that live music promoted vigor and relieved more stress and tension in cancer patients than that of the recorded variety.
One key component about live music, as highlighted by the study's author Lucanne Magill Bailey, is the "human element inherent in live music."
There's a level of authenticity -- and energy -- that comes with live music. While you might not dance to your collection of Phish albums when you're sitting in front of your laptop, you'd definitely bust some moves if you were at a concert.
Following a similar hypothesis, according to Chau Tu, in an article for The Atlantic, current research has concluded that music's effect on movement had a positive effect for those with Parkinson's disease, a neurological disorder that effects the movements and motor skills of those effected.
Parkinson's patients typically experience difficulty with regard to motor skills and commonly experience what are known as "breaks" or "freezing," which refer to uncontrollable disruptions in movement.
When Parkinson's patients listened to music, however, specifically that which contained a steady rhythm or beat, they showed significant improvements in their walking.
And while these findings are far from anything of a concrete discovery, they do provide us with a reason to be optimistic about the holistic benefits music. And these benefits also include treating physical symptoms brought on by mental issues like stress and anxiety.
For years, we've known music can influence the way we think. Anyone who's ever caught his or herself speeding -- after an up-tempo song pops up on the car radio -- can attest to this notion.
I mean, even after listening to some Drizzy Drake, you might catch yourself daydreaming about your old flames. It's not by accident. Music has the knack for attaching itself to certain memories -- or even certain mental states.
For example, if you listen to classical music every time you study -- the next time you hear classical music, you're probably going to be reminded of your campus library.
Having said that, "the evaluations of what music does in the body [are] based on subjective responses and lack the objective real-time measurements of physiology," explains Ketki Karanam, co-founder of The Sync Program, which is looking to spearhead the research behind music's physical and mental effects on people.
In other words, music affects every person -- and situation -- differently.
As described by Tu, "The Sync Project currently takes the form of an online and mobile platform that pairs users' music-streaming services with their wearable body monitors to track how music might be interacting with their body." The data collected is then handed over to researchers for further analysis.
The Sync Project is attempting to compensate for the massive subjectivity within musical research on human health. In essence, The Sync Program would inform users of which types of music are most suitable for each of their different moods -- uniquely.
For instance, if one particular user tends to listen to Billy Joel when he or she is resting, as soon as The Sync Program detects some downtime in the user's biometric data, it will recommend something from Piano Man.
That said, their recommendations will probably never be the same for two different people with two subjectively different tastes in music.
And while The Sync Program does a great job of providing users with digital music that's tailor-made for them, it appears the live music of a concert has even more of a significant effect on our moods.
But we've known certain music can coincide with certain moods -- and even encourage certain physical behaviors (like dancing) -- but the question of whether or not it can serve as a medicine to relieve certain emotional -- or physical -- conditions is a different subject entirely.
Still, these cases provide evidence for some of music's physically and mentally therapeutic powers.