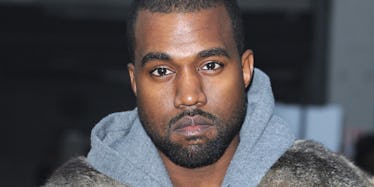 5 Things Bob Ezrin Got Wrong About Kanye West
Getty Images
With all due respect Bob Ezrin, I'm sorry, but everything you have said about Kanye West is wrong and I am going to tell you why.
I am a fan of Kanye and no, I don't agree with all his behavior, but I have to appreciate someone who can wholly and unapologetically be his true self without fear of meeting the need to be politically correct.
I mean, isn't this what we are all taught as kids? "Be yourself!" Kanye has followed this advice, but rather than being applauded for it, some take to discredit his musical accomplishments, despite his impressive resume.
Bob Ezrin is one of these people. Just because you don't like the guy, doesn't mean he is not talented.
Let's take a look at some of the things Ezrin said:.
"Sure, he made some great music for himself and others. But in spite of what the aspirationally-cool media keeps saying about him, unlike other creators in his genre like Jay Z, Tupac, Biggie or even M.C. Hammer for that matter, it's unlikely that we'll be quoting too many of Kanye's songs 20 years from now." -- Bob Ezrin
What do you mean we won't be quoting too many of his songs? Kanye has just as many quotables as most of the rappers Bob Ezrin named.
Surely, Kanye West fans today will be quoting his music for many years to come, just as fans that grew up on the Beatles probably still quote their songs today.
However, we are in a new generation of music, and what's streaming now is more relevant because it relates to current times, so Ezrin's reality is probably just a little bit distorted or out of touch with today's musical taste. It's inevitable that as society evolves, so will the music.
Furthermore, have you seen social media posts on Twitter and Instagram that constantly refer to Kanye songs in their captions?
We are still quoting songs from The College Dropout today, more than a decade later. I am willing to bet that if you start playing "Jesus Walks," "Power," even "The New Workout Plan" in a random room, there will be people in there who will know many of those lyrics.
Final thought: Kanye has quotables for days.
"He didn't open up new avenues of public discourse like NWA, or introduce the world to a new art form like Grandmaster Flash, or even meaningfully and memorably address social issues through his music like Marshall, Macklemore and Kendrick." -- Bob Ezrin
Now I know Ezrin penned his letter without listening to too much of Kanye's work.
But Kanye hasn't opened up a new avenue of public discourse? Kanye made talking about religion in rap, in music and having it played on the radio a real thing.
"Jesus Walks," and many songs in the The Life of Pablo are loaded with references to God, biblical stories and religion in general. He even called The Life of Pablo a gospel album.
He also constantly talks about race, politics and business in his music. Yes, he complements it with angry rants at times, but he is just trying to passionately bring the point home.
Kanye even makes his music artistic events. He pushes the envelope with his album covers, provides engaging and art-related visuals in his music videos, and even complemented his album release with a fashion show. If you ask me, he's definitely opening "new avenues."
"In my opinion, his productions are his best work – and I admit I'm jealous of several of them – but I don't think he's on quite the same level as Timbaland and Rick Rubin among several others." -- Bob Ezrin
Excuse me, but Kanye is one of the best producers of our time. Have you taken a look at his discography? Singing or rapping over a Kanye-produced record is almost a guaranteed hit. And in fact some of the rappers Ezrin alluded to have rapped over Kanye-produced beats themselves!
Kanye produced Jay Z's "Izzo," and that beat is an instrumental that's still used today in DJ sets around the world. This song also helped Jay Z get his first taste of the Billboard Hot 100 list.
Other Kanye-produced songs include Rihanna's "Bitch Better Have My Money," John Legend's "Used to Love U," Beyoncé's "Party," Jay Z and Beyoncé's "Bonnie and Clyde," Drake's "Find Your Love" and many others. Need I say more?
"What he is a true artist at is living his life out loud – and shoving it down the throats of the rest of us whether we give a sh*t or not." -- Bob Ezrin
Well played, Ezrin. I agree with you on this one. Kanye is true to himself no matter what.
"The great musicians, writers, poets, rappers, performers, dancers, players, conductors, directors and producers work all their lives for that one moment of complete perfection – that one brilliant performance, that one perfect song, that one enduring and life-altering work. 10,000 hours is peanuts in comparison to the real amount of time spent by true artists in their lifelong pursuit of excellence. But no one else that I have seen is this happy to have the audience watching all along the way." -- Bob Ezrin
Ezrin is not Kanye, and he cannot say what Kanye's one end goal in life is.
Maybe he wants the audience to watch all along the way so we too can feel inspired to create without apologies, and to understand that before you get to the "end" you will have traveled many other routes.
Maybe Kanye's goal is not only making a timeless body of work but having a timeless influence on those that pay attention to him.
With all that said, Bob Ezrin should have at least listened to The Life of Pablo before penning his essay. Having not listened to it just makes it more than obvious that Bob is simply uncomfortable and critical of Kanye's personal behavior, rather than his musical talent.