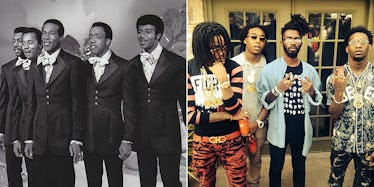 Atlanta Has Become To Hip-Hop What Motown Was To R&B In The 60s
Wiki Commons/Instagram
When Berry Gordy Jr. founded Motown Records in 1959, it sparked change not only in music, but throughout all communities in America.
With the country in a racial divide, the African-American owned and operated record label innovated a new sound and crossed black culture over to white America for one of the first times ever.
Combining melodic baselines with soulful crooning, it was the early hint of pop influence that actually changed the music landscape.
Musical songwriting was at its peak during the Motown era.
From 1960 to 1969, Motown was responsible for 79 records in the Top Ten of the Billboard Hot 100 and became a worldwide phenomenon.
From Stevie Wonder to Smokey Robinson, Diana Ross to Gladys Knight, groups like The Temptations and The Jackson 5 made Motown the nucleus of music culture in America throughout the 60s and 70s.
Since the 90s, the same thing's been happening in Atlanta.
The trend of Atlanta rap taking over club and radio airplay is no coincidence. It's been happening for two decades. Low key.
With the new wave of talent coming from the region, it's important to remember that some of the most legendary acts in hip-hop and R&B have their roots in ATL.
From Usher to Young Jeezy, Ludacris and T.I., groups like Outkast and TLC give Atlanta some of the most impactful musical influencers since the 90s. The list goes on, and the history is deep.
With their style reflective of American culture down south at the time while also pushing the boundaries and creating something new, they paved the way for the new generation of artists who are dominating today.
Atlanta hip-hop is going through yet another renaissance.
In recent years, we've seen a flood of talented young producers and rappers who've helped create this dynamic new Atlanta sound.
With deep melodic baselines and an uptempo trap influence, it's the way artists are now bending their voices (usually with auto-tune) to make the English language sound as cool and different as possible.
From Gucci Mane to Future, Rich Homie Quan and Young Thug (the list goes on), young beat makers like Metro Boomin' and Sonny Digital are the one's who are really driving that Atlanta sound.
One of the biggest names in the south is DJ Esco who rose to fame with Future. In a story about Atlanta hip-hop with The Scene, he explained the culture of the city saying,
It's the hottest city in the country in music. It's like Motown was in the 70s with groups on every corner trying to get a deal. It's the same thing in Atlanta, it's just rap.
Just like Motown's beginnings, it was all about executives believing in the talent and taking a risk.
Atlanta's musical origins started when music mogul Clive Davis first met record executive LA Reid and R&B singer Kenneth Edmonds, aka Babyface, in the late 80s and opened LaFace Records in Atlanta to start scouting talent in the south.
They went on to discover and sign a trio of female singers called TLC, and the rest is history. They brought a new sound and, with the way they dressed, acted and talked, became trendsetters.
From there, more acts followed and signed to LaFace such as Toni Braxton, Outkast and Usher. Then, in the 90s, a producer by the name of Jermaine Dupri launched So So Def Records and signed artists like Kriss Kross, Da Brat and Jagged Edge.
Music was thriving in Atlanta and it became a hotbed for the culture as artists, producers and executives began flocking to the city to stay as close to the pulse as possible.
Their belief in finding and developing talent is something Berry Gordy proved worked with Michael Jackson.
Having worked in the booming auto industry in Detroit (hence the name Motown combining "motor" and "town"), Gordy saw similarities in the music industry saying,
Every day I watched how a bare metal frame, rolling down the line would come off the other end, a spanking brand new car. What a great idea! Maybe, I could do the same thing with my music. Create a place where a kid off the street could walk in one door, an unknown, go through a process, and come out another door, a star.
When Berry first met Michael Jackson in 1967, no one could've predicted he'd be the biggest pop star in the world. All he needed was someone to believe and invest.
But Atlanta hip-hop is also doing things completely differently.
With the Internet making it easier to share, music is created, distributed and profited off faster than most things in the world.
The thing about the Atlanta sound is that it's always changing and evolving. It's a space for artists to experiment and see how trippy they can get. In an interview with the Washington Post, DARP studio engineer Alex Tumay explained,
Atlanta is a place to try things out. You don't want to be the guy who sounds like somebody else.
Atlanta's music scene is unlike anywhere else in the world.
That's because strip clubs actually play a vital role in an artist's success. And I'm being deadass serious.
According to DJ Esco, hit records all start at one strip club in particular, Magic City, where he and his partner Future had their humble beginnings and still frequent today.
Music is usually generated first through the strip clubs. It's underground. It grows from the strip club and then it goes to the dance club and when it graduates from the commercial clubs it usually goes to the radio.
But Magic City isn't just a strip club, it's the mecca for Atlanta hip-hop.
It's where people go to throw a bunch of cash, but only when the music is right and the strippers are twerking. According to Hot 107.9 DJ Stuey Rock, it can do a lot to a man's psyche:
If your record isn't playing at Magic City, then it's not hot in the streets. The strippers will have a big part in whether a song works or not. If you're a gentleman and you're in the club and this girl is literally twerking her life away, sweating and shaking, it's almost convincing you that this song is it.
It's a culture that might be hard for some people to understand, but strippers really do dictate what's hot in Atlanta.
Diamond, who dances at the club, said,
The DJs and the dancers are more like A&Rs and we hear hits and we love to dance to them. We know what we like to dance to, we know it when we hear it.
Hip-hop goes through phases and trends always dictated by same thing: the listener.
As of now, Atlanta is the hottest city in hip-hop.
California isn't far behind with its eclectic talent from LA to the Bay, but if one metropolis is responsible for an explosion of music culture, it's hard to argue this isn't the closest thing since Motown.
Hip-hop is the most influential genre of music and research shows that rappers have had more effectiveness in changing the landscape than legendary bands like The Beatles and The Rolling Stones.
You can't really measure an artist's success solely off album sales anymore because people just stream music, but in terms of how much this new sound has inspired a generation, you have to give Atlanta artists props.
All empires decline and soon Atlanta will need to reinvent, but for now, it continues to produce.
Does it have the same political and socioeconomic impact that Berry Gordy created during the 60s? Absoultely not.
But will this new generation of emcees, producers and DJs influence the next generation of rap superstars. You already know.