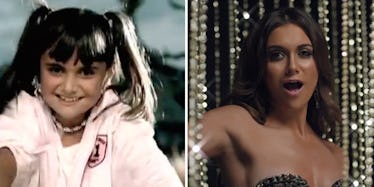 The Girl From The Missy Elliott Video Is Back With Her Own Music Video
Alyson Stoner is back and here to prove she is more than just the backup dancer from Missy Elliott's 2002 "Work It" video.
Fast forward 13 years, and this chick has done exactly that.
If you need a brief reminder of what Stoner looked like back in the day, well, here you go:
Back in February, Stoner did embrace her past with an epic tribute to the one and only Missy following the Super Bowl.
But those days seem to be behind her as she's not only taking a stab at choreography, but vocals and acting as well.
Along with this new single, "Pretty Girls," Stoner will be in the upcoming film, "Sugar Babies," playing a woman who finds herself in an unusual situation when she makes an arrangement with a sugar daddy.
Her character uses her beauty to her advantage while taking part in said arrangement.  
Check out the video up top and decide for yourself if she's got what it takes.
Citations: Watch Alyson Stoner The Girl From Missy Elliotts Videos in Her Own Music Video (Billboard )