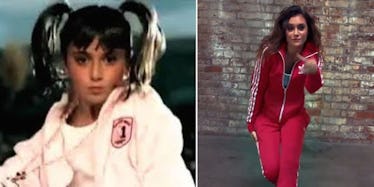 Girl From 'Work It' Video Is Back With An Epic Missy Elliott Tribute (Video)
You might not know the name Alyson Stoner, but you'd definitely recognize the legendary girl from Missy Elliott's "Work It" video.
Let's refresh your memory for a moment, just in case you need it:
Since Missy Elliott stole the halftime show at the 2015 Super Bowl, Stoner's name has been thrown back into the media.
So much so, she had to take to Twitter to clear up the debate as to whether or not she would be performing alongside Missy.
To the literal 65 people asking if I'm about to dance with Missy at halftime, pic.twitter.com/KYqPw5RU4I — Alyson Stoner (@AlysonOnTour) February 2, 2015
She also sparked interest on Twitter about a response to the halftime show, which she has now blessed us with on this fabulous Thursday afternoon.
Well, that response certainly blew our minds and was definitely worth the wait!