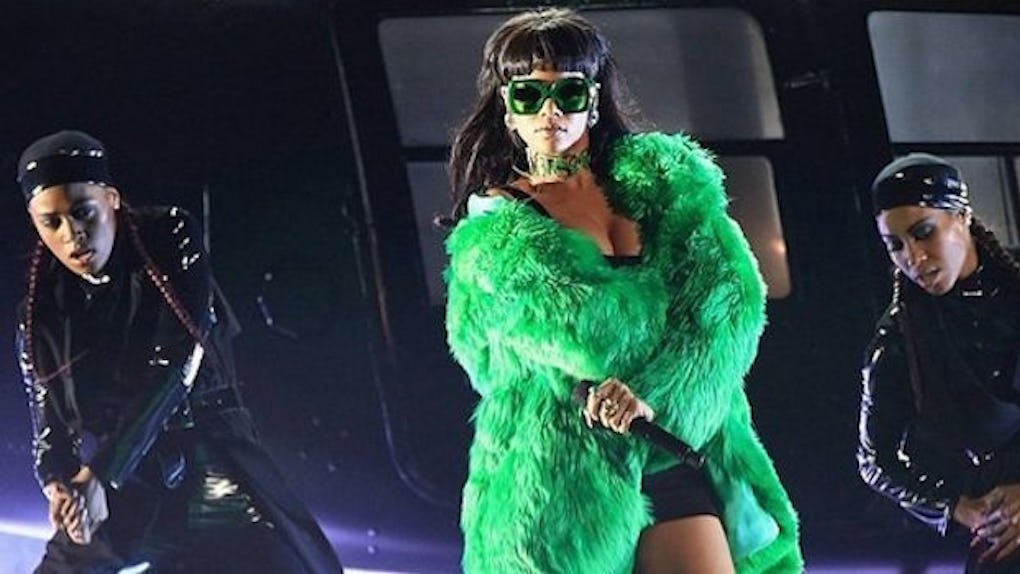 Instagram
3 Things We Can Hope To Expect From Rihanna's Anticipated Album, 'R8'
If anyone knows how to get our attention, it is Rihanna.
She posted a black-and-white photo of herself on Instagram Wednesday night of what appeared to be a new single cover. (Can someone please tell me what is up with her eyebrows, though?)
The title of Rihanna's new track, "Bitch Better Have My Money," can currently be heard on Dubsmash, the smartphone app where users can upload videos of themselves lip-syncing.
The song that was produced by Roc Nation talent Deputy shows us Rihanna is still our favorite bad girl.
The track is ratchet, in your face and a reminder that Rihanna is planning to take over the charts once again. The song is trap-infused, while being ambigious in regard to fitting into one specific genre.
Her new album, R8, (hasn't been officially confirmed) will be her follow-up album from 2012's Unapologetic.
At this time, there is no set release date; however, that can change at any second with an Instagram post.
Her #Navy fans are still enjoying her other single, "FourFiveSeconds," with Kanye West and Paul McCartney, while #BBHMM gives her fans something they can rock out to at the club.
With all this new music coming our way from Rihanna, one can only imagine what her upcoming album will be like, who she will be working with and will there be any Chris Brown references?
Take it back to the 90s
There is no denying the music made in the 90s is still some of the best music to listen to. Rihanna has been taking it back to the 90s with her style, and even with the single "FourFiveSeconds," as it showcased her ability to do a song with a catchy hook.
Dope collaborations
We already know Kanye West will be serving as an executive producer for the new record and he was featured on her last single, but who else can we expect?
Can we expect another Drake and RiRi collab? It has been rumored that Ne-Yo is involved, and if that is true, then we, along with her #Navy, are in good hands. Anyone remember "Hate That I Love You?"
Rihanna has always been good with her collaborations in the past, so I am hopeful she will keep it fresh this time around and give us the unexpected (maybe a song with BFF Katy Perry).
Music with substance
While we love turning up and getting ratchet for a good night out, we also appreciate music with soul and substance.
Rihanna did that once upon a time with songs like "Unfaithful," "P.S. (I'm Still Not Over You)" and "Cry."
While her voice doesn't provide her the gift to do big ballads like Mariah Carey, she has the voice that is subtle, soft and can still bring home a decent hook and melody.
While she has proclaimed to be a "Trap Goddess," one has to wonder if she can still give us those songs that help us get over a bad relationship, confidence and the joy of being young?
Rihanna is 27 now, and while she is not a woman ready to settle down, she is also not a freshman in college. There's only so much drinking, smoking and partying you can do.
While Rihanna knows how to build up the hype via Twitter and Instagram, she has definitely been able to get our attention as we follow every step of the way.
In the meantime, the star has been busy promoting her animated movie, "Home," where she also provides new music for on the soundtrack to keep fans wanting more.