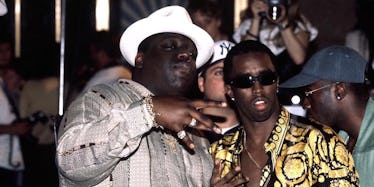 20 Years After Biggie's Death, He's Still The Greatest Rapper Of All Time
REX/Shutterstock
The Notorious BIG, also known as Biggie Smalls and born Christopher Wallace, was shot and killed 20 years ago today.
Biggie, who was 6 feet, 3 inches tall and weighed almost 300 pounds, emerged during what many might refer to as the golden era of hip-hop, and his influence on the musical genre is unparalleled.
Spread love, it's the Brooklyn way.
His talent, both in terms of writing lyrics and freestyling, is indisputable.
Two decades after his death, he is still the greatest rapper of all time.
The man was a magician with words. Words were his weapon, and his salvation.
Through his incredible music, Biggie told vivid tales of life on the tough streets of Brooklyn, offering an intimate view into a gruesome and unforgiving world many have no familiarity with.
Biggie was selling crack in the Bedford-Stuyvesant neighborhood of Brooklyn as early as 15.
He felt trapped by that life, but music offered him an escape route.
Biggie's rags-to-riches story was quintessentially American, and continues to fill people with hope.
"Juicy," one of his most recognizable tracks, is about overcoming seemingly insurmountable obstacles -- oppression, poverty, racism, violence, crime and crippling self-doubt -- and finally making it big.
Birthdays was the worst days. Now we sip champagne when we thirsty.
This song captures the true spirit of hip-hop: a beautiful blend of story-telling, poetry, music, hope, humor and swagger.
While many try to dismiss hip-hop as a musical genre that condones depravity, it's actually a celebration of progress and perseverance; "Juicy" is a prime example of that.
In fact, researchers at Cambridge University found that hip-hop is extremely effective in combatting depression, bipolar disorder and addiction, largely due to its overall positive narrative and the fact many artists tell stories of overcoming immense hurdles to find success.
Hip-hop helps induce "positive visual imagery."
In other words, amid bipolar episodes or periods of depression, hip-hop can help people envision a brighter future.
As Dr. Akeem Sule, a psychiatrist who conducted the study alongside neuroscientist Dr. Becky Inkster, put it,
Much of hip-hop comes from areas of great socioeconomic deprivation, so it's inevitable that its lyrics will reflect the issues faced by people brought up in these areas, including poverty, marginalization, crime and drugs. We can see in the lyrics many of the key risk factors for mental illness, from which it can be difficult to escape. Hip-hop artists use their skills and talents not only to describe the world they see, but also as a means of breaking free. We believe that hip-hop, with its rich, visual narrative style, can be used to make therapies that are more effective for specific populations and can help patients with depression to create more positive images of themselves, their situations and their future.
Biggie's music was fundamentally about "breaking free," and his songs continue to inspire new generations of rappers while providing endless enjoyment, and sometimes even healing, for countless listeners.
Biggie called himself the "King of New York," and it's hard to disagree.
In 2017, Biggie's music is still invading every corner of America's biggest city.
There are murals paying tribute to him throughout Brooklyn and beyond, and his appeal spans across generations.
Biggie's timelessness, and the contagious positivity of his music, is precisely why he remains the greatest of all time.