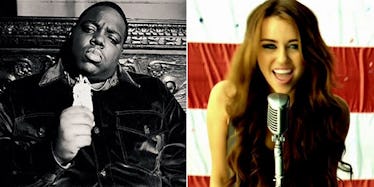 RIP Biggie Smalls: 11 Notorious BIG Mashups You Need To Hear ASAP
Wikimedia Commons / YouTube
Christopher Wallace -- aka Notorious BIG, aka Biggie Smalls -- died exactly 19 years ago today in Los Angeles, California.
To think he was only 24 when he lost his life is shocking considering how much he accomplished in the rap game. But no matter what, his music lives on forever through classic albums and, of course, countless mashups.
Imagining Biggie if he were still alive today brings up so many possibilities.
What if he transitioned to reggae dancehall? What if he collaborated with Metroboomin? What if Frank Sinatra was also still alive and they did an album together? Well, thanks to the Internet, we know the answers to all of the above.
These are the 10 greatest Biggie mashups you need to hear:
Biggie and Miley Cyrus might've never collaborated in real life, but now we know what "Party And Bullsh*t (In The USA)" sounds like.
A reggae track like this, however, is definitely something we could see the Notorious jumping on.
Biggie Smalls with some Frank Sinatra is an instant classic.
If you ever wondered what it would sound like if Metroboomin produced for Biggie, it's f*cking awesome.
But if old-school rock n' roll is your thing, this BIG and Led Zeppelin mix will do you right.
Michael Jackson and Big Poppa together would create "Biggie Jean."
And if Kanye and Biggie collaborated, they would probably break the Internet.
This MGMT remix of "Electric Feel" and "Nasty Girl" is one of the best out there.
And the White Panda mix of "Mo Money, Mo Problems" is something every white girl could enjoy.
BIG and MIA connecting on "Paper Planes" is a must-listen.
I'm not sure why Biggie wasn't on the original version of "Empire State of Mind" either.
But no matter the remix, nothing's messing with original Biggie. RIP!