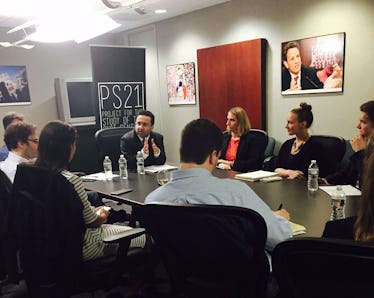 Number Crunching To Grand Strategy: How Unexpected Circumstances Moved Me Forward
PS21
Growing up, I never would have guessed I'd become interested in US foreign policy.
With the exception of the "Frog and Toad" books — with their endearing messages and big font — I barely read as a kid.
I did, however, love math. I played Number Munchers in elementary school, joined the MATHCOUNTS team in middle school and dreamed of following in the footsteps of Reid Barton, who, in 2001, became the first person to win four gold medals in four years at the International Mathematics Olympiad.
After 9/11 happened, though, early in my junior year of high school, I began to wonder whether I really wanted to pursue a career in math.
Beyond awakening me to the dangers of the early 21st century — dangers that seemed geographically and psychologically remote during my childhood — the events of that day made me appreciate how ignorant I had been about the world outside of America's borders.
My sister, Zaahira, had taken a year off before going to college, and she had gotten a lot out of it, so I decided to follow suit. I didn't have a concrete agenda, just an abstract goal of becoming worldlier.
My family and I visited relatives in Pakistan, where my parents were born. I interned at Amnesty International's DC office for a few months, and, surprisingly, I read quite a bit.
I mostly read "Harry Potter" books, but I also picked up a few books to help me make some sense of a post-9/11 world.
It was one of those books (Joe Nye's "The Paradox of American Power," which holds up remarkably well over 13 years later) that persuaded me I wanted to study political science in college.
Shortly after finishing it, I asked Professor Nye if he'd be willing to meet. I wanted to tell him in person how much his book had influenced me, and I wanted to find out more about how he had gotten to where he was.
Despite being extraordinarily busy (he was dean of the Harvard Kennedy School at the time) and having no reason to answer fan mail, he agreed, and I got to pick his brain for an hour.
Since that meeting in early 2004, Professor Nye has guided me intellectually and supported me professionally more than he can appreciate.
I was fortunate to find several other mentors once I got to MIT. Suzanne Berger, a distinguished political economist, sharpened my analytical thinking, helped me write more lucidly and gave me candid advice on bridging the divide between academia and policy.
It's advice I continue to ask her for seven years after graduating from college.
Stephen Van Evera, the former editor of International Security, taught me my first course on US foreign policy and cemented my interest in political science. He also told me I shouldn't be afraid to ask others for help in advancing my career.
Speaking of fear and overcoming it, Joshua Cohen encouraged me to write up my ideas, publish them and deal with criticism. While he now divides his time between UC Berkeley and Apple University, he taught philosophy and political science at MIT from 1990 to 2007.
As a sophomore — I don't remember if it was my first or second term — I approached an online journal, "Human Rights and Human Welfare," with a proposal to write a review essay centered on a book that had been recently been published on US national security policy.
The editor was interested, but because HRHW hadn't run work by an undergraduate before, he asked me to find a faculty supervisor to help flesh out my idea and edit whatever draft I ended up writing.
Although I hadn't met Professor Cohen, I asked if he'd be willing to serve in that capacity. I was thrilled when he agreed, and I felt confident when I sent him my draft. He replied soon thereafter, telling me that while he thought I had made a good effort, it was nowhere near being publishable.
I could tell he had spent a lot of time reviewing my essay. He had deleted entire pages, included challenging questions and comments throughout and proposed an overhaul of the structure.
Some years later, I asked him why he had taken the time to invest in someone he didn't even know at the time. He said that because I had taken the time to approach him, he felt compelled to respond seriously.
Telling me I had produced a great draft would've been misleading and, more importantly, condescending.
If you think someone's work is unworthy of your time, the fastest way to get him or her off your back without hurting the person's feelings is to offer some vacuous words of encouragement.
Critiquing my essay in detail was Professor Cohen's way of saying he took me seriously, or at least he wanted to take me seriously. I've always regretted I didn't save a copy of his note.
I love MIT, and I find myself missing it more each passing year. Looking back, though, I would've spent some of my time there differently.
In my junior year, I tried to land an internship at one of the big consulting firms where my friends were getting offers, but not surprisingly, I didn't have any luck.
I didn't do nearly enough mock case interviews, attend nearly enough recruiting events or talk with nearly enough people about how to position myself competitively.
In truth, I was applying to those companies not because I was eager to do consulting, but because I wanted to be part of the in crowd.
In the midst of my internship search, Professor Van Evera asked if I'd like to work for a friend of his over the summer.
The friend in question, Graham Allison, runs the Belfer Center for Science and International Affairs, a research hub at the Kennedy School.
Professor Allison wanted someone to spend a few hours a week helping him research an essay he had started writing. I jumped at the opportunity because I knew how esteemed he is among political scientists and strategic thinkers.
At 31, he published a book, "Essence of Decision," which revolutionized our understanding of decision-making.
I came back home for the summer to recharge and recalibrate, and in doing research for Professor Allison's piece, I got to delve into stimulating policy debates about how and when the United States should use military force abroad.
Still, when you're in a quiet place (Fredericksburg, VA in this case), away from where you think all the action is, you can easily convince yourself you're falling behind and being unproductive, especially when you scroll through your Facebook feed.
Little did I know that summer how important my connection to Professor Allison would prove to be in shaping my path after MIT.
I returned to school feeling refreshed, but my time at home evidently hadn't gotten rid of my itch to work for a vaunted New York City firm. I decided to apply for a job at one of them shortly after my senior year began, having heard that a brilliant acquaintance had worked there over the summer.
I talked with a recruiter on the phone, and shortly thereafter, I went for a series of interviews at the company's Manhattan office. The experience was comically disastrous.
My first interviewer asked me to estimate how many cars there are in the world.
Terrified — I had no idea how to proceed — I, nonetheless, strode confidently to the whiteboard in the room, grabbed a marker, drew a few cars (seriously) and spouted lots of gibberish with a big smile on my face.
Another interviewer asked me if I actually knew what the firm does. While I had memorized its "about us" page the night before, I couldn't explain it. I don't remember much else of what happened that day.
While that debacle didn't reorient me completely, it did convince me to spend more time pursuing opportunities in my actual areas of interest: US foreign policy and big drivers of change in world order. China was one of those drivers on the rise (or resurgence, depending on your perspective).
Between 2004, when I started MIT, and 2008, when I graduated, its official military spending grew by almost 70 percent, its economy more than doubled in size, and observers began depicting it not as just another rising power but as a potential superpower rival to the United States.
Following a recommendation from Kimberly Benard, MIT's distinguished scholarships and fellowships guru, I applied to be a Junior Fellow in the China Program at the Carnegie Endowment for International Peace.
I was notified I had been selected for an in-person interview and was told to come to Carnegie's DC office on the morning of February 26, 2008.
The night before, I went to pick up my suit from the dry cleaners in the basement of the student center.
I came upstairs, bought a cup of coffee from LaVerde's (MIT's main convenience store) and went to get dinner from Cambridge Grill, a popular place on campus whose tuna melts and chicken tenders I ate more times than I care to recall as an undergrad.
The semester had been unusually busy for me, and I hadn't been sleeping or eating well in the weeks beforehand.
I told myself it'd be a bad idea to go to bed on an empty stomach the night before an interview. Unfortunately, though, my luck caught up with me: I started feeling woozy as I approached Cambridge Grill, and I ended up fainting before I could put my stuff down. When I came to, my suit was drenched in coffee.
I incoherently asked the girl who was looking at me (now a good acquaintance) whether she thought I could salvage it. She told me no, insisted I go to MIT Medical and walked me over there.
The nurse ran some tests on me, and while she didn't think anything was wrong — probably just exhaustion, she reasoned — she told me she'd like me to get evaluated at Mt. Auburn Hospital just to be on the safe side.
The story had a happy ending: Mt. Auburn discharged me in the wee hours of the morning, I made my 6:30 am flight, and I ended up receiving an offer to work for Michael Swaine and Minxin Pei in Carnegie's China Program (now the Asia Program).
In mid-2009, shortly before wrapping up there, I emailed Professor Allison with some work updates. I had dropped him a line from time to time since interning for him (not to ask for a job, but simply to keep him in the loop).
In response to my latest note, he asked if I had any plans for the fall. I said I didn't, and I was open to all possibilities.
The ensuing email exchange led to a phone conversation, an in-person interview and, ultimately, an offer to join his research team.
I moved back to Cambridge in the fall 2009 and spent almost three years at the Belfer Center, exploring some of the central challenges of US foreign policy.
More than any other experience, my time there structured how I process the news of the day and analyze commentary about it.
In early 2013, a few months after I had left Belfer, Professor Allison asked if I'd be interested in working for a friend of his on a short-term assignment.
The friend, it turns out, was Samantha Power. She was set to be nominated for a high-profile foreign-policy post — which one, I didn't know at the time — and she needed someone to do opposition research for her.
While I only worked for her for about half a year, the experience was thrilling.
Ambassador Power has a contagious passion for her work and seemingly limitless energy. My next job was with a longtime colleague of Professor Allison's, Robert Blackwill, doing research on the growing role of geoeconomics in world affairs.
Ambassador Blackwill, in turn, introduced me to my current supervisor, Richard Solomon. I am now working on a project for him that considers what the next American president's "grand strategy" might be.
My long-term goal is to shape America's role in the world — especially its relationship with China — in a range of capacities: as a writer, a public servant and a member of think tanks and other private organizations.
The question, of course, is how to get from where I am now to a point where I can have that kind of voice. I've started to sketch out what I might do after graduate school (I'll be starting a master's in public policy this fall.), but I doubt those blueprints will be very accurate.
I've always liked planning, and my room is strewn with Post-It notes (and my inbox with email drafts) in which I've attempted to chart out my life's trajectory. Looking back, though, my five- and 10-year plans bear little resemblance to what I ended up doing.
Even so, I'm neither as nervous about my lack of a roadmap nor as worried about being "left behind" as I was in college.
In part, it's because people and circumstances have propelled me these past seven years in ways I could never have imagined.
Since graduating, in fact, I've only had one job (my first one, at Carnegie) that came about because I knew of a job opening. Every other position came about because someone I know reached out to me or contacted someone else on my behalf.
That record has given me some faith in luck — not exactly lottery luck, but the kind of luck you're likely to get if you keep working, putting yourself out there and nurturing the relationships you've built with your mentors.
I suppose the other reason I'm less anxious is I have a clearer sense of what I'd like to pursue. While I had started taking an interest in China's foreign policy at MIT, I had little idea of what I wanted to do with it.
One day, I'd want to go into academia. The next day, I'd want to work at a think tank. The following day, I'd want to start a company.
One of the problems with being scatterbrained is you're much likelier to try and find direction by emulating those around you than you are to be patient with yourself and find out what you really like doing.
At MIT, I used to measure myself against a kind of superhuman who combined all of my peers' talents and successes. As the group of folks I tracked changed, so did the superhuman I conjured.
It makes little sense to fight a juggernaut, especially one whose form and powers keep shifting. I'd rather find a field I love and try to have the greatest impact possible within it. Luckily, I think I've found one.
To this day, I feel excitement every time the new issues of "Foreign Affairs" and "Foreign Policy" arrive in the mail.
I spend many mornings and afternoons gulping coffee and reading news and op-eds about various aspects of US foreign policy and many evenings attending events on US grand strategy and Chinese foreign policy.
I take comfort in knowing that even if I'm having a bad day or week, I'll still enjoy what I'm doing.
As I continue planning and networking (I've started having mentorship coffees with folks whose research, analysis and careers I admire), I think my "grand strategy" will mostly involve going wherever my passions take me.
Ali Wyne is a contributing analyst at Wikistrat and a global fellow at the Project for the Study of the 21st Century. He is a coauthor of "Lee Kuan Yew: The Grand Master's Insights on China, the United States, and the World" (2013).