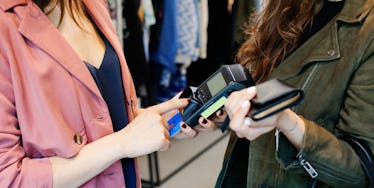 Why You Should Put All Your Holiday Purchases On The Card This Season
Whether you're spending money on travel, gifts or partying, there's no time of the year more expensive than the holidays.
Budgets get busted, belt lines bloated and buyers remorse (inevitably) sets in.
Unless you're willing to be a complete Scrooge, spending can't be avoided. But there are ways to spend smart, without being a frugal beaver.
This may sound wrong to some of you readers, but one of the best ways to spend smart for the holidays is to use your credit card.
Here are seven reasons why your credit card should always be at the front of your wallet during your holiday shopping:
1. Get Rewarded
You probably spend more during the holidays than any other time of year, so at least get something in return for it.
Whether you want cash back, miles or points, there's no better time to get rewarded for the money you spend than during the holidays.
Using cash gets you nothing, and debit gets you less than half the rewards a credit card does.
Find the right credit card or combination of cards, and you could earn anywhere from 1 percent to 5 percent in cash back rewards or its equivalent in miles.
Take the time to do some research and find the best credit cards for yourself and you may earn a free flight for your next vacation.
2. Protect Your Purchases
Did you know credit cards are a great way to protect your purchases at no extra cost?
Many credit cards will automatically extend the manufacturers warranty for a full year on your purchases.
They will also replace or cover the cost of your purchase if it's lost, stolen or damaged within 90 days.
All you have to do is use your credit card and your items will be automatically protected.
3. Never Miss A Sale Again
Paying full price is simply just not an option.
However, even with all the price comparison apps in the world, we can still miss the occasional awesome sale. Well, good thing credit card price protection can come to the rescue.
With free price protection, if you make a purchase and find the same product advertised (even at a different store) at a lower price within 60 days of purchase, the difference will be refunded, usually up to $500, subject to a yearly maximum.
It's like couponing on steroids.
4. Get Covered
Traveling costs a fortune.
Whether it's your flight, hotel, cruise or resort, we often put a significant portion of our savings into travel.
The problem is that travel is also unpredictable. You can miss a connecting flight, get injured while on vacation or get sick at the last minute and not be able to make it at all. All of these things can have devastating financial consequences.
Use a credit card with robust travel insurance and you can get covered for everything -- out of country travel medical insurance, trip cancellation refund, trip interruption refund, flight delay and even car rental insurance.
5. Save On Travel Costs
Whether you need to save on gas for an epic multi-state drive, or you need to figure out a way to avoid blowing your budget before you take off, credit cards can help.
For flying, take a look at travel credit cards that offer everything from a free flight bonus, to free airport parking, free checked bags, free lounge access, free early check-in and even seat selection.
6. Foreign Exchange
If you plan on going out of country for the holidays, exchanging your money in the wrong place can cost you 10 percent or more on top of the foreign exchange rate.
Avoid exchanging your money in airports, hotels and touristy currency exchange booths.
One of the cheapest and most convenient ways to spend your money abroad is actually with a no foreign transaction fee credit card.
Instead of 2.5 percent of fees on foreign transactions charged by your ATM or debit card, your bank will charge you 0 percent. Yup, you read that write. Zero, zip, nothing, nada.
All you'll have to pay is the exchange rate plus a small fee of less than 1 percent to MasterCard or Visa.
7. Cheap Financing
Let's face it: Not all of us have the cash we need to pay for everything we want to gift for the holidays on hand.
While I would never encourage anyone to spend more than they have, if you know you can payback what you borrow within a few months, sometimes taking a trip to spend the holidays with your family is worth it.
With that being said, there's a smart way and a not-so-smart way to do it.
Using your rewards credit card to pay for your flight, when you know you're going to carry a balance is not smart.
If you're going to carry a balance, use a low-interest credit card.
But there is an exception.
If you want to play chess while everyone else plays checkers, use your rewards card for the initial purchase and then shift your debt to one of the many 0 percent balance transfer credit cards to carry your balance, without paying any interest for a year or more.