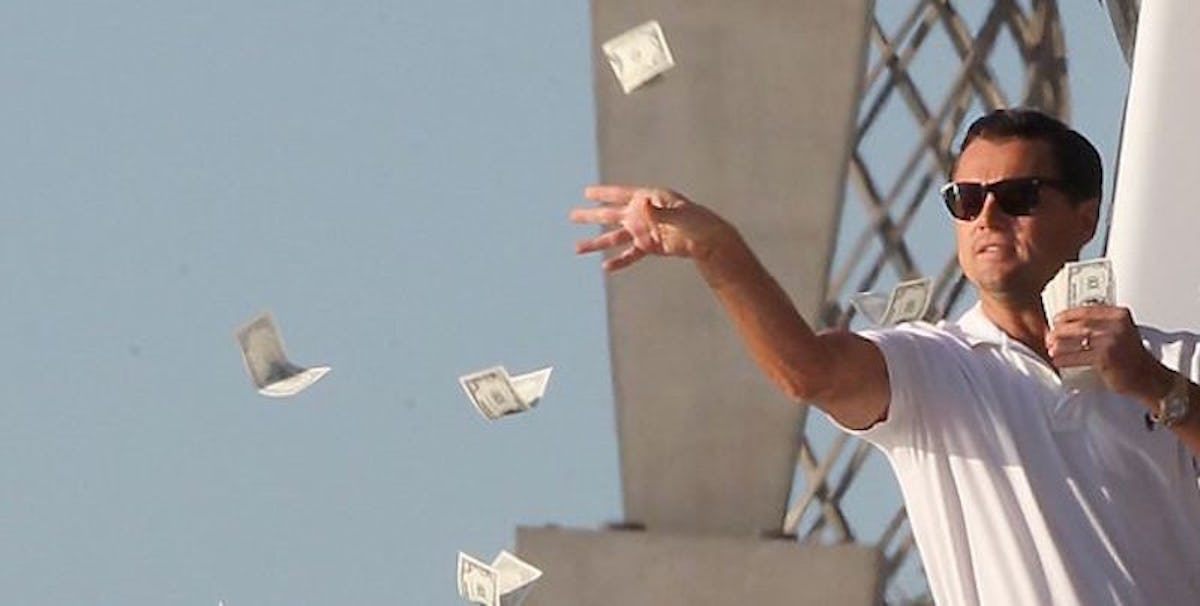 Money Saving Tricks For 2017 That Won't Make You Feel Like You're On A Budget
Paramount Pictures
There's a new year's resolution we see on people's lists year after year – the one about saving money.
We've all tried a financial detox at some point. In many of these attempts, we might have fallen graciously (or not) into a relapse.
However, with technology and a few genius tricks, we can actually meet and keep our financial goals without needing to pull out a spreadsheet to make sure we're on track with budgeting.
Here are four easy ways to manage your finances in 2017.
1. Turn to a fun personal savings app
"There's an app for that" is true of almost any chore, task or hobby these days, for better or worse. Thankfully, a few of those apps are downright nailing it.
Whether it be finding a fitness tracker that is finally paying off, a scheduling aid for managing your or a personal banking app like Qapital that helps establish savings for the first time ever, technology is giving us the tools to make our resolutions come true this year.
Apps like Qapital make it easy for us to pursue a full and active life while stashing away funds for things that matter to us most. The app wipes away the shame of spending on blowouts and Uber rides and turns guilty purchases into instant savings.
Download the app and set a savings goal. Create rules that trigger automatic transfers, such as charging yourself for guilty pleasures, taking the 52-week challenge with a Qapital twist or rounding up to the nearest dollar on all of your debit transactions.
For example, you can order takeout and transfer $5 toward your down payment on a home using the app's guilty pleasure rule. Doing a morning coffee run? You can automatically save $0.50 towards a new pair of running shoes each time your debit card rounds your cup of joe purchase to the nearest dollar.
Whoever said you can't save for a rainy day and have your latte too?
2. Party like a potluck star
Socializing isn't cheap. For those of us who don't want to put a dent on our social obligations, a quick solution would be to throw a good old potluck party.
Apart from locking down the venue and appointing the person in charge of clean-up duties, everyone else is responsible for their own food or drink assignments. Guests just work with a price range on what they want to bring, multiplied by how many people are actually coming. With a little bit of legwork, cash-strapped individuals can save huge bucks by just hosting parties at home.
3. Go out to see [free] shows
If you can, refuse to pay for entertainment or at least skip paying the full price.
To avoid going bankrupt due to FOMO, check out early-bird and cheap ticket sales (example: Broadway For Broke People). You should also sign up for newsletters that let you know about individual and group discounts or, even better, events that are completely free!
4. Get your Chip and Joanna on with do-it-yourself projects
Thanks to countless DIY blogs and home improvement shows, a lot of us are now rolling up our sleeves (literally) to do a variety of projects.
DIY addicts are definitely saving themselves from huge costs that come with paying professional laborers. From renovating rooms or backyards, to creating things that we could possibly turn into a small business, the world is seeing an internet-savvy generation who are fans of step-by-step tutorials across the web.
So go ahead and try these money-saving hacks that will make you feel like a baller (who's secretly on a budget)!