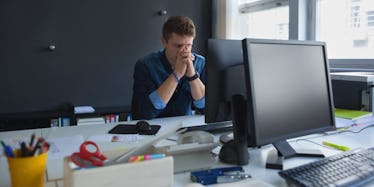 Why Working In London's Financial Centre Leaves Many Disappointed
If you asked me to describe the city of London, I undoubtedly would answer,"The school of life."
While London may be known as Europe's financial capital, I've learned it gives you more of a crash course than an introduction.
While housing prices are outside the reach of anyone on a salary, Gen-Yers take unpaid intern positions in the hopes of being hired.
This disappointment swiftly transits into disillusion when they realize companies rotate this continuous influx of desperate students every couple of months, in order to save on salaries.
The uncountable universities have become the largest supply chain of higher-educated slaves for a job market, where an oversupply of labor fills the pockets of landlords.
Growing up, I desperately wanted to gain experience in Europe's very own NYC, or at least its equivalent. Unfortunately (or fortunately), my dream and nightmare was realized simultaneously.
Looking back, I wouldn't change my experience for the world. (It's called "an experience" for a reason.)
Moving to a completely different city with no knowledge of what was ahead was probably one of the most daunting, yet rewarding life lessons I could ask for.
It gave me a three-dimensional view of life, even if it ended up making me cynical.
Regardless, it made me face reality.
I've learned more in my limited time living in London than in my entire life.
While encountering countless bright graduates and individuals from all over the world, it struck me that very few were actually able to secure a job.
That being said, here are three reasons why working in Europe's financial center leaves many Gen-Yers disappointed:
1. Housing prices are through the roof
Finding a place in London is like engaging in a "Mission Impossible" sequel. As Stuart Heritage stated in The Guardian:
"With a pregnant wife and a job that doesn't pay me in truckloads of gold bullion, I currently find myself faced with a stark property choice: I can either move out of London to raise my family or keep my baby in a filing cabinet. "I'm joking, of course. This is London. I could never afford somewhere with enough room for a filing cabinet."
And according to The Independent UK:
"London is the most expensive city in the world to live in, beating New York, Paris and Sydney."
So you don't think I am exaggerating, here's another, coming from a headline from The Telegraph:
"Minister quits because £120,000 salary and expenses is not enough to support his family in London."
Yes, you read correctly.
2. No reply
According to FlexJobs:
"Not responding to job applications has become a growing trend among companies. According to a CareerBuilder survey, 25 percent of those surveyed said that they never received an acknowledgement after submitting job applicants, or worse, were not informed about the hiring manager's decision after an interview. "And to add insult to injury, a staggering 75 percent of participants claimed that they hadn't heard back from at least one employer in the past year."
It may be English culture or Londoners' fast-paced lives, but receiving a reply from a potential employer has become the equivalent of finding a unicorn.
Personally, I've never seen one.
3. Exploitation of workers
One of the most eye-catching headlines I came across recently was: "Internships: the scandal of Britain's unpaid army," in The Guardian.
A full day's work can come with no pay. You cannot even fund a roof over your head or your morning Starbucks chai latte.
You might think I'm talking about a situation in a third world country.
But unpaid long-term internships are a modern-day scandal in the UK, especially in London.
As the city is full of university students craving some experience and a head start into the corporate world, it's no wonder that companies are taking advantage of the countless number of graduates.
Then, there are the lucky ones who find jobs in the most sought after field: the financial industry. London's financial district is known for high salaries as well as high blood pressure.
Movies like "Wall Street" and "The Wolf of Wall Street" function as publicity for graduates who are hungry for wealth and success.
But once they are among the 1 percent who are hired, they are caught up in a world with no sex and no fun.
Di Caprio's "Wall Street" is unfortunately not duplicated here. The graduates barely sleep, and if they do, it's usually in the office.
They work nonstop to procure results for their superiors, who are the real wolves of London. The city is a world without mercy.
The salaries are higher, yet not enough to pay rent on a London apartment. And the workload leaves psychological and physical marks on those brave enough to take it on.
Suicides are, for some, the way out. But like in "The Wolf of Wall Street," the more negative the reviews, the more candidates it attracts.
It's becoming harder and harder to make a decent, honest living. Those who take the chance and move to London may find their dreams are cut short.