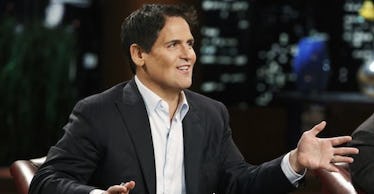 What It's Like For Four Millennials To Build A Brand With Mark Cuban
Spencer Hopkins is living every entrepreneur's dream. He is building a brand with Mark Cuban as his investor and mentor.
Hopkins is the marketing lead and co-owner of boxed alcohol beverage company BeatBox Beverages, a company showcased on "Shark Tank" that received a million-dollar investment from Mark Cuban, esteemed entrepreneur, billionaire investor and owner of the Dallas Mavericks.
The 23-year-old University of Texas student found his way into his role through happenstance.
Hopkins is in charge of expanding brand recognition, forging partnerships, defining and creating the company's digital presence, and focusing on initiatives to drive demand in new markets. It's a lot of responsibility in a highly competitive space.
Elite Daily chatted with Spencer Hopkins and Mark Cuban to find out about the investment and the collaborative building of the brand. They shared insight into what it's like working together and what makes a company attractive for investment:
How did you get involved with this company?
Spencer Hopkins: "I got out of class one day and ran into a friend who was heading in the opposite direction. I asked him what he was up to and he said that there was a group of MBAs from UT's McCombs School of Business who wanted to meet up with him to get feedback on an idea they had for a new alcoholic drink.
"For whatever reason — I honestly couldn't tell you why —, I asked if I could come along. They [the founding team of BeatBox] pitched an early version of BeatBox and I thought it was a billion-dollar idea; I had to be a part of it. That night, I typed up a proposal to work for them and got it back to the founders the next day.
"They were super impressed by my initiative and passion for the company, but couldn't offer me anything. I was basically told 'there is no money to give and a lot of work to be done, but we would love to have you join the team.' So, I busted my ass as an intern for about six months — the name of the game for me was to make myself so valuable they couldn't afford to lose me.
"After around six months, I approached Justin, the CEO, with another proposal… I wanted to really be a part of the team and have equity for what I had already done and what I continued to do. Now I'm here."
What is your vision for the company, and what are you doing to make it a reality?
SH: "We are more than just an alcohol company and are trying to create an experience for people. This isn't some large alcohol company trying to repackage a drink to make it 'cool' for Millennials… even saying the word 'Millennials' feels weird because WE are Millennials.
"We have a product designed for us, by us, and it shows up in everything we do. From how we package our product, to the type of social media content we post, to the way we engage with our customers... we are doing things totally differently than everyone else in the alcohol industry.
"What RedBull did to the energy drink industry is what we want to replicate in the alcohol landscape, but with our own unique spin and attitude that is distinctly our brand."
What is the culture of the company like? How many team members are there?
SH: "We are a forward-thinking, fast-moving company with a unique energy and perspective that resonates with our fans. The team is very small and young; only four full-time employees, ranging between 23 and 31."
How has life changed for the company since the airing of the "Shark Tank" episode?
SH: "'Shark Tank' has been amazing for us, especially in the business-to-business area. It allowed us to explode much faster than we could have ever thought imaginable."
What has it been like working with Mark Cuban and what kind of doors has he helped open?
SH: "Working with Mark has been awesome. He just operates and sees things on a different level. One of the things I think will surprise most people is how accessible he is and how fast he responds to anything. Seriously, it's unreal. Anyone on the team can fire off an email or shoot him a [Cyber]Dust and he will respond right away.
"We are finding that people are very responsive to emails when Mark Cuban's name is attached to them. It's really exciting working with Mark for this reason — the sky is the limit."
Besides monetary investment, what makes Mark Cuban the best shark you could've worked with?
SH: "Mark's value is more than just money — his connections, his status, his advice and expertise — the list goes on. I should also mention that the fact that he fits in well with the company and shares our vision, which is huge.
"You hear horror stories all the time of startups that get an investor who has different views from the rest of the company and then life becomes more difficult for everyone."
What have you have learned while working with Mark that makes a successful team?
SH: "Trust and good communication. Both are crucial and are directly related to each other. As a team, we've learned that good communication builds trust, and trust, in turn, contributes to better communication."
What made Spencer's alcohol company so appealing to invest in?
Mark Cuban: "I thought they could be the first viral party wine for young adults. When you see someone with a BeatBox, you want it for your party. [The team] is aggressive, smart and driven. Great product, great energy, great impact, very memorable and great execution."
Do you see a common thread among the people you've invested in?
MC: "Not really. I look at each potential investment independently. I look at the business, where it can go, what makes it unique, the people involved and what value I can add. If the combination of all of these equals a great return, I invest."
You've invested in Millennial-run companies, like Cyber Dust, Recess and now BeatBox. What trends are you seeing with how they operate and the visions for their companies?
MC: "They sometimes lack context regarding what's come before them in their space. They think the only thing that matters is what they can currently see. But, they make up for it with a fearlessness and focus that drives their companies."
What are X-factors you look for in people when you invest in their company?
MC: "I look for something very unique. In the case of this company, it was a fun product that would be great at any party, and a memorable brand and impact that can go viral."
What were the first areas you addressed once you invested in this company? Is there a formula you use when evaluating and setting up an action plan with companies, or are they different?
MC: "No formula. I like to see what their plans are and how they execute what they say they will do. In the case of this company, they were so excited, so I had to slow them down and focus them some.
"The key for this company was to get big wins in the markets they were in. That would create momentum and get people talking about the products and company, which in turn, would lead to people asking for it in liquor stores around country, which would lead to demand. They wanted to win all those battles at once, which you can't. You have to win the ones you are in."
There are no doubts Spencer and the rest of the BeatBox team are on an exciting journey, swimming alongside Mark Cuban in the treacherous waters of doing business in the alcohol industry.
The lessons being learned and connections being made through Mr. Cuban are the icing on the cake of a million-dollar investment. They are priceless intangibles in Spencer's team's playbook that will help the company win at the sport of business.